The evolving economic outlook post-COVID-19
Things change on a daily basis these days, and it's hard to predict what the future of Austin real estate may hold. Here's what we're seeing as we head into May 2020.
Good news on the real estate front
While home buyer searches for properties dropped 36% during the peak of COVID-19 — from March 10th to 24th -- our data shows the number of buyer searches is steadily increasing nationally. We are now only 15% lower than where we were before the drop.
Real estate is following the same flattening as the COVID-19 curve. In the 135 cities where Compass operates, there was a ~20% week-over-week growth in new listings and pending listings after the market spent 2 weeks at bottom.
After spending so much time at home sheltering in place, we are also seeing home search criteria shift. Take a look at these highlights: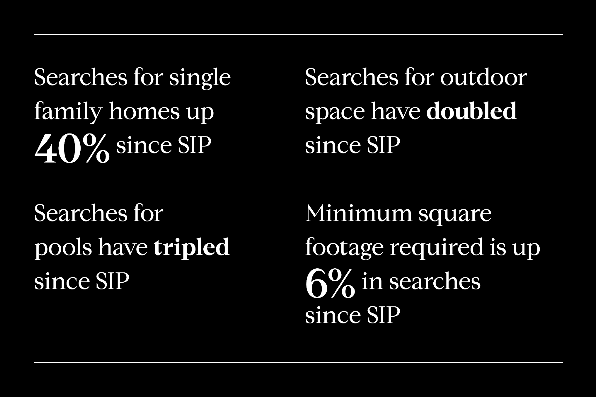 These numbers are a reflection of current sentiment, and we expect those searches and preferences will continue to evolve. We expect this will also impact home design in the long term. To that end, we will be visiting with several architects during our Facebook Live broadcast at 12 p.m. on Wednesday, May 6th to get their insight on how home design is likely to evolve. Tune in to learn more.
Housing is powerful economic driver
Many analysts believe one of the first things we'll be able to safely bring back is the home sector, creating more jobs and impacting local neighborhoods in a big way. The National Association of Home Builders put it well:
"…job creation through housing is broad-based. Building new homes and apartments generates jobs in industries that produce lumber, concrete, lighting fixtures, heating equipment and other products that go into a home remodeling project. Other jobs are generated in the process of transporting, storing and selling these products. Additional jobs are generated for professionals such as architects, engineers, real estate agents, lawyers and accountants who provide services to home builders, home buyers and remodelers."
Indeed, the National Association of Realtors shared some interesting data to demonstrate the economic impact of one home sale. While the national average is around $88,000, here in Texas it equates to around $83,000.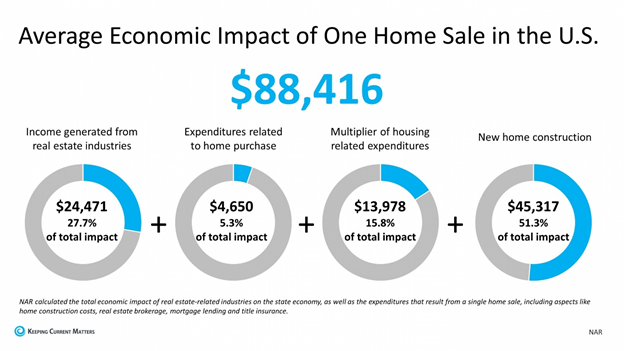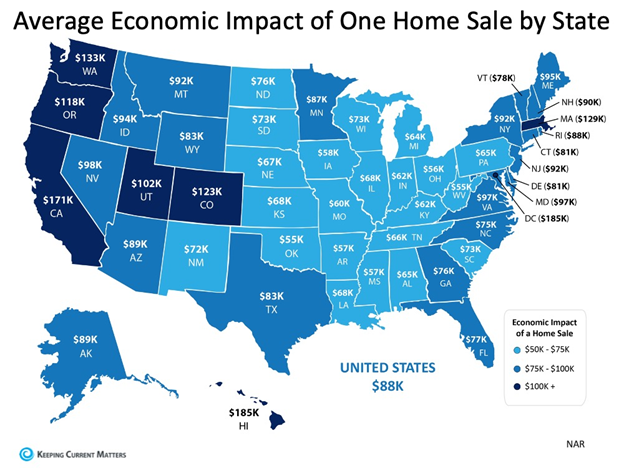 But where does that leave us globally?
Broader economic predictions from global business leaders
In a recent survey over 2,000 global business leaders were asked what they think the recovery will look like. Thankfully, the majority believed that the COVID-19 crisis will be controlled, and we will avoid long-term structural damage to the economy much like the scenarios shaded in blue below (A1–A4) which lead to a V- or U-shaped recovery.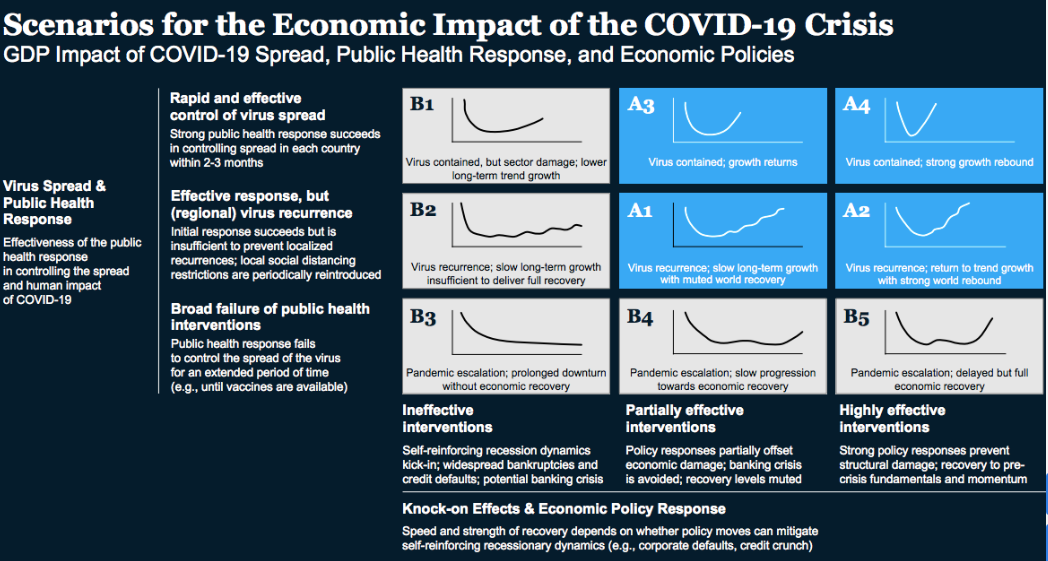 Almost one third of these leaders anticipate a muted world recovery where US GDP could drop 35 - 40% in Q2 of 2020 and won't return to pre-crisis levels until Q1 of 2023 (A1). A slightly more optimistic outlook was the second most anticipated scenario, reflecting virus containment by mid-Q2 of 2020 with an economic rebound following Q2 2020 (A3). [Source: McKinsey]
Sectors hit the hardest
Given the the current state of affairs, it comes as little surprise that these sectors have been the hardest hit by the coronavirus.
1. Commercial Aerospace: May take years to recover from production and supply chain shortages
2. Consumer Air & Travel: Domestic recovery is likely to recover faster than international travel
3. Oil & Gas: Oil price decline driven by short-term demand impact and OPEC+ decision to increase supply
4. Insurance Carriers: Reduced interest rates and investment performance impacting returns
5. Automotive: Trade tensions and declining sales amplified by acute decline in global demand
Where do we go from here?
The question as framed by McKinsey & Company's Global Managing Partner, Kevin Sneader, is: how do you reconcile the saving of lives with the safeguarding of livelihood?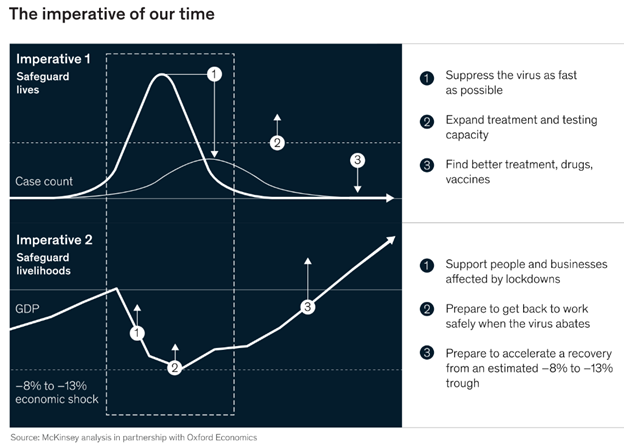 There's no easy answer. And with 70% of the US workforce unable to do their jobs from home, states need to consider how to make sure there is enough PPE, testing and contact-tracing in place to be confident that once they reopen, they won't have to shut down again.
I'd be curious to hear your thoughts. Please let me know what you think if you have a moment.
Stay safe and healthy.
May 1, 2020
You might also like
If you want to see more information related to the coronavirus impact, you might appreciate these articles.