Resilience, a dose of reality, and what the future may hold
This week the Austin Board of Realtors released the Austin real estate statistics for March 2020. While I've been looking at statistical snapshots every week or so, these are the first official stats we've seen of how the market is faring since Austin had its first official coronavirus diagnosis on Friday, March 13th. What we see is a story of resilience, a dose of reality, and a hint at where we are headed.
The March real estate statistics don't tell the full story
If we look at how the Central Austin market is doing year over year, things look pretty fantastic, especially with the median price continuing to climb 14% since last year. These amazing numbers indicate how tight our market is. There are very few properties available and prices are going up even in the face of a pandemic.
However, it's important to remember that these March statistics are mostly a reflection of deals that went under contract in January and February. Since most real estate transactions take around 30 days to complete, we won't really get a good idea of what impact the coronavirus is having until we see the April and May numbers.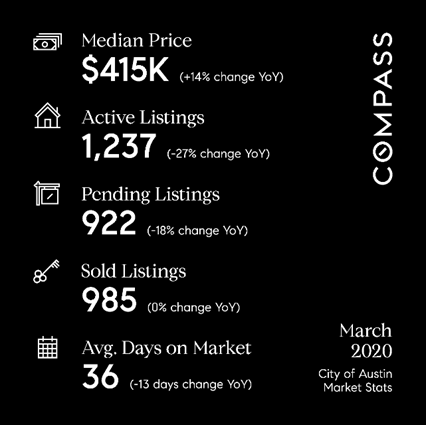 The decline in the number of pending and active listings shows the reality of the market
Despite the increase in appreciation, the real story is told in the number of pending and active listings, which are on the decline. New listings are down 7%. Active listings (properties on the market that have not sold) are down 27%. Pending home sales under contract are down 18%.
I hear other real estate agents touting how hot the market is, and yes, you can skew some of the data that way. There are even some incredible stories of multiple offers and homes selling for over the asking price right now. Those are the exception. Be wary of the hyperbole that will come out of desperation for a deal…
The data speaks for itself. Using data from provided by Emily Chenevert, the CEO of ABOR, and the graphing skills of our team member Jackie Momont, you can see how the trends have evolved week by week: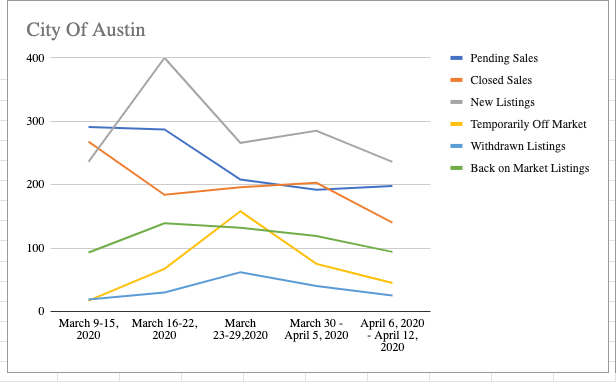 We think these trends will continue until Austin is fully open for business. Of course, the situation is evolving daily and we have no guarantees. Truth be told, I've talked to some clients that believe this crisis will go on for years so they are moving to sell now. Other clients are opting sit on the sidelines and wait and for the rebound. No judgment here. This is a novel virus and we are going to see some novel results…
This is not like the 2008 housing crash
This is not like last time. First of all, the real estate market and the stock market do not go hand in hand. Second of all, housing is positioned very differently in today's economic crisis than it was back in 2008. And last, Austin is not like everywhere else.
Let's work backwards. Austin is an attractive market. Our (typically) low unemployment rate, lack of state income tax, and general cool factor has Austin at the top of many rankings for the best places to live. That's going to continue regardless of the coronavirus. Indeed, we expect that we may see an even greater increase in migration to Austin as people in denser cities, like New York, seek to escape to places with a little more breathing room. Austin also has lower housing inventory (only around 1.6 months) compared to 3 months in the rest of the U.S. There was an oversupply of homes leading up to the 2008 crash; we don't see that today. See chart. Austin's low inventory makes our market competitive and fast-moving.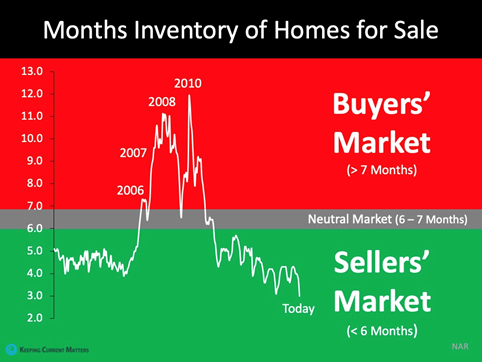 The overarching concern I've been hearing is a worry that the entire housing market may collapse. We have to remember that our housing market is in a much better position than it was in 2008. While we have seen appreciation in recent years, as a country the appreciation levels are sustainable. We had much higher rates of appreciation leading up to the 2008 housing crash.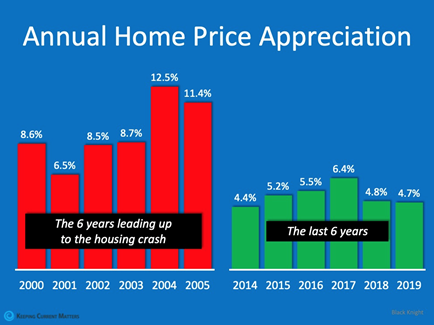 Plus, these days we have stricter guidelines about lending money than we did pre-2008. I bet some of you remember the good old days of 100% financing. We even had one personal transaction where we walked out with $40,000 in cash and didn't have to put any money down to purchase a flip house. We haven't seen that kind of crazy lending in a long time. Mortgage credit is harder to obtain.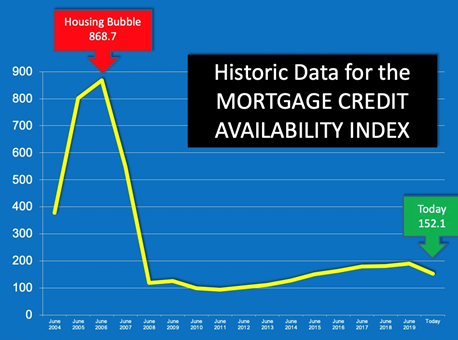 Another big difference is the amount of home equity held by most homeowners. Folks really learned from the last crisis and have quit using their homes as a credit card by taking out their equity to pay for other things. The data shows us that 37% of our homes are paid off, and a large number of people have over 50% equity in their home.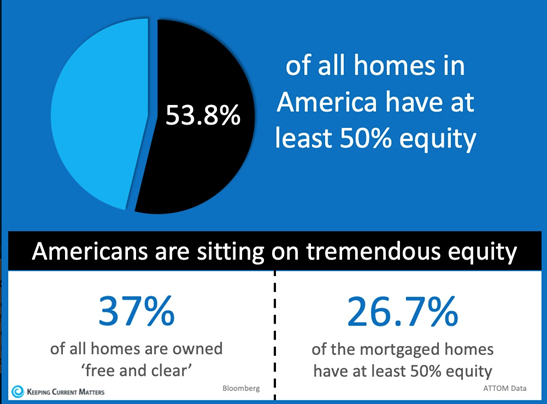 It's inevitable that the housing market will feel some impact from the coronavirus. We expect unemployment to be in the double digits when the next report comes out. We just don't think it compares to the 2008 crisis. Austin is also uniquely situated to bounce back in a pretty healthy way.
So where is the Austin real estate market headed?
While no one can predict the future with any certainty, we've seen two basic models for the real estate recovery. In one model we have a rapid V recovery. I like to think of this as a slingshot. We are all holding in place, but once recovery happens all that pent up demand will launch our growth.
This matches what we are seeing in other parts of the country (with the exception of New York). If Austin follows the same trend as Seattle, the housing market will likely see fewer and fewer pending home sales over the next few weeks as we approach the bottom of the V. Our colleagues there report that they are beginning their recovery. If we follow a similar path here in Austin, we should begin to do the same towards the end of April and beginning of May.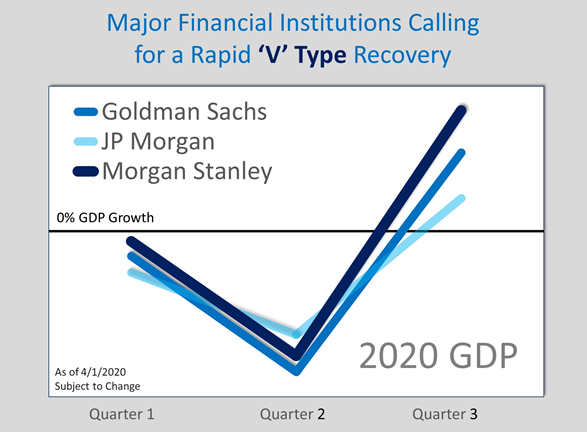 Other experts are suggesting a W-shaped recovery where the economy begins to bounce back, but is waylaid by a second wave of outbreaks in the late Fall. We hope that's not the case, but it is a possibility.
What to do if you need to move?
We studied our usual way of doing business and are implementing some changes in how we approach things to limit contact, limit exposure, but still help move people forward in a safe way. The specifics are laid out on our website.
If you can, we think it's time to sit tight. While we don't recommend that you put your home on the market at this time, this is a good time to get your home ready so that you can take full advantage of any potential slingshot momentum. But not everyone has the luxury of waiting to see how this all plays out. For those of you who want or need to sell but don't know how to get from point A to B, we are working on several creative solutions that will give your more options – options that will let you earn top dollar without having to carry two properties at the same time. We aren't here to push our services, only to keep you guys aware of what's going on in the market. If you want more details, let's chat.
In the meantime, take good care of yourself, and let us know how you are doing.
April 16, 2020
You might also like
If you want to see more information on the navigating life in Austin during the coronavirus pandemic, you might like these articles.