2023 was a tough year for Northwest Hills home sales
We will remember 2023 as a tough year for Austin real estate. But how did Northwest Hills home sales compare to the rest of Austin?
Not great. Overall, sales are sluggish. The number of homes for sale is up. The number of closed sales is down. And prices took a hit as well.
As we close out 2023 and get ready for 2024, let's take a deeper look at the Northwest Hills real estate market, particularly the area that is zoned to Doss Elementary.


THE NUMBER OF AVAILABLE HOMES FOR SALE IS UP
Typically we would have around 20 homes for sale in November, but right now there are 32 single-family homes for sale in the portion of the neighborhood that feeds to Doss Elementary. While having more homes for sale may sound like a good thing, it means that home inventory is increasing, and that is often a sign that homes aren't selling.
And doesn't account for all available homes.
In addition to the 32 single-family homes that are publicly for sale, another 7 homes are being offered for sale off-market and are not part of the MLS. That means 22% of our local market is hidden from the public view. The off-market properties in our neighborhood are often newer, larger, and more expensive than our standard pool of listings. Currently, the majority of off-market properties in Northwest Hills are 4,000+ square feet and range in price from $499K up to $3.5M. Right now six of the off market homes have 5 bedrooms, one home has 4 bedrooms, and one home has 3 bedrooms.
THE NUMBER OF CLOSED HOME SALES ARE DOWN
If you follow the real estate headlines at all you won't be surprised to learn that Northwest Hills home sales are down this year. A look back at the last five years of home sales in the area is instructive:
2019 -- 134 homes sold

2020 -- 122 homes sold

2021 -- 126 homes sold

2022 -- 89 homes sold

2023 -- 74 homes sold year to date as of mid-November
That's a 16.85% decline year over year for home sales for our Doss area. In comparison, the city of Austin is looking at a 12.7% year over year decline. The decline is even more troubling if we look five years back to 2019: our Northwest Hills home sales are actually down a whopping 44%, whereas the city of Austin is only down 25.22%.
We also saw an increase in homes that were listed but did not sell. So far, 26 homes have been withdrawn from the market in our neighborhood. Even if we disregard the pandemic real estate frenzy, our sales are below where they should be trending.
In the chart below, the green line represents listings for sale, while the blue line shows us what was sold. As you can see in the chart, sellers have to fight for their homes to get noticed and sold. Consider this as you weigh your odds of selling.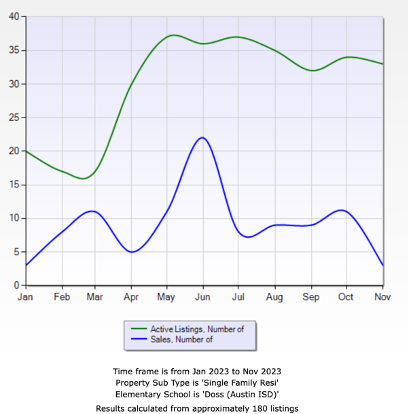 NORTHWEST HILLS HOME PRICES ARE ALSO DOWN
We saw meteoric price appreciation during the pandemic, but we gave up quite a bit of that gain during 2022 and 2023. Prices are negotiable again. Today most Northwest Hills homes are selling for 8% less than the listing price.
There are outliers, of course, but these days quick sales over list price are the exception, not the standard. Eleven Northwest Hills homes sold in the first five days on the market, and only two of those sold over the list price by 2%.
Our neighborhood is changing, so there is a huge difference between our highest sale and our lowest one. The highest home sale was a newly constructed six bedroom home just off one of our busier streets. It sold for over $3M, but was discounted off the original asking price. The lowest priced sale in the Doss area was $570K for a fixer upper with only two bedrooms.
DON'T BE SCARED OF THE AUSTIN MARKET. DO BE REALISTIC.
We don't mean to be doom and gloom, but it is important to be realistic about the significant market shifts that have occurred in Northwest Hills the last few years. It's been a tough year overall. For buyers that means more opportunities than there have been in awhile, and for sellers it means adjusting your expectations or even your timeline for selling.
For more specific advice about buying or selling in this kind of market, check out our practical tips for buyers and suggestions for sellers. Better yet, if you want help figuring out if it's a good time to buy or sell given your personal circumstances, we can consult with you.
We've been through ups and downs like this before before, and we can help you come out on the other side.

Wherever life takes you, we can help you get there.
See our real world results
Can you imagine loving your real estate experience? It's possible! Just look at our reviews on Yelp and Zillow.
Take the next step
Are you ready to find a home you love or sell your home? We're here to guide you through the process. Contact us to schedule a consult.
CURIOUS ABOUT WHAT YOUR HOME
MIGHT SELL FOR TODAY?
We'll study your property and send you a detailed market analysis. It's free, and there's no obligation.
I agree to be contacted by Homesville Realty Group | Compass via call, email, and text. To opt-out, you can reply 'STOP' at any time or click the unsubscribe link in the emails. Message and data rates may apply.
Your custom report is on the way!
Thanks for your interest. We are working on your home valuation, and we will reach out soon to see how we can help. In the meantime, check out what others have to say about working with Homesville. And if you need to speak with us ASAP, please don't hesitate to call or text us at 512-789-0869. Cheers!