Seven things to know if you want to buy a home in 2023 or early 2024

Is it the right time to buy? Will interest rates continue to go up? Has the market hit bottom? Can I afford it?
These questions don't have a one-size-fits-all answer. Purchasing a home is a significant decision, and it's a highly individual choice influenced by your risk tolerance, personal finances, and other factors.
Given the current uncertainty of the Austin real estate market, right now may not be the right time for you to buy a home. But if you are in the market and you can afford it, taking action sooner rather than later might be a prudent move. As you weigh the best course of action for your situation, here are seven things to know if you want to buy a house in Austin in 2023 or early 2024.
#1 -- Don't focus on timing the market.
Everyone wants the best possible deal on their home so it's tempting to wait for prices to hit bottom and mortgage rates to drop. But here's the thing… Trying to perfectly time the market rarely works. Instead, focus on whether the timing is right for you in your present situation.
As for pricing, I think this Fall and Winter may be the last significant price compression we see before the Austin market recovery picks up pace in 2024, and that makes it a prime buying opportunity. If history holds true, we will see a seasonal price increase in Spring. If you really want to focus on finding the bottom, I think we are there or very close.
#2 -- Run the numbers.
Right now rates and prices are like a see-saw.
You can either get a lower purchase price with higher rates and plan to refinance your loan to a lower interest rate later on, OR you can wait for the Austin market to recover and pay a higher purchase price with lower rates later on. It's a trade off.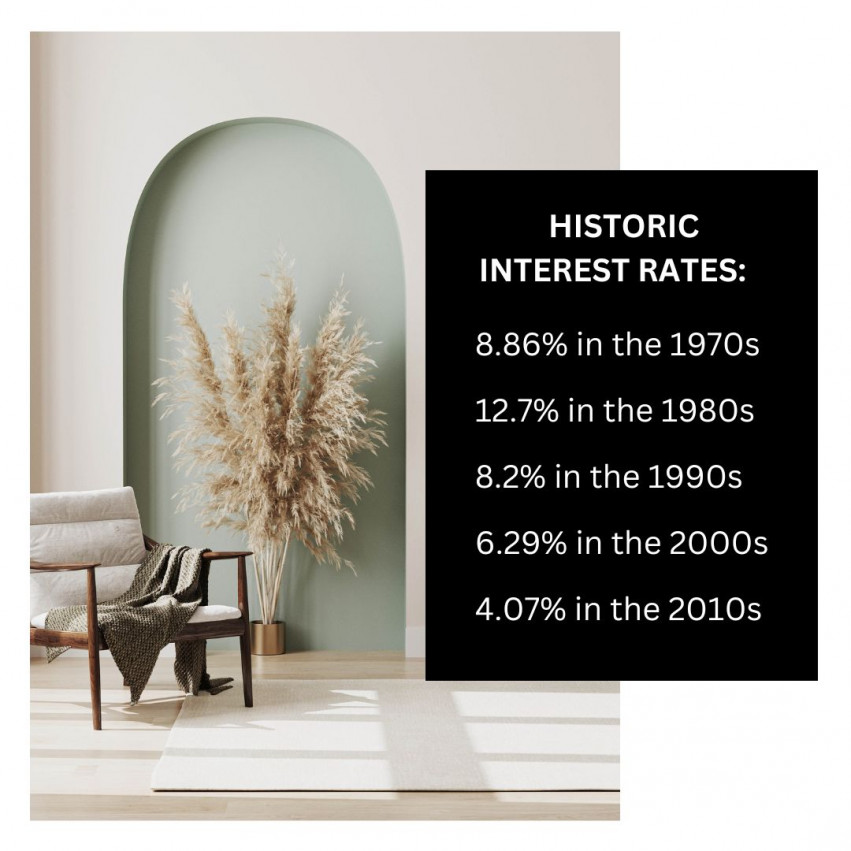 Run the numbers, and then consider whether it is worth coming off the sidelines to take advantage of our lower home prices now even in the face of higher interest rates. Remember too, that you may not need a 20% down payment; these days there are programs available that could get you into a new home with less down.
#3 -- Enjoy a more relaxed home search.
The frenetic house hunting race we experienced during 2020 and 2021 is gone. We aren't seeing as many multiple offers or homes selling for over the asking price, and we are starting to see more inventory available to choose from. These days you can look at homes at a calmer pace without the excessive competition, you can actually negotiate price and terms, and perhaps even find a house that was out of your price range before.
#4 -- Aggressively negotiate.
The longer the home has been on the market, the more likely it is that the seller will be willing to negotiate. Indeed, as of November 2023, most home sales are closing at 6 - 8% below the list price.
Make an offer. You may be surprised where things land.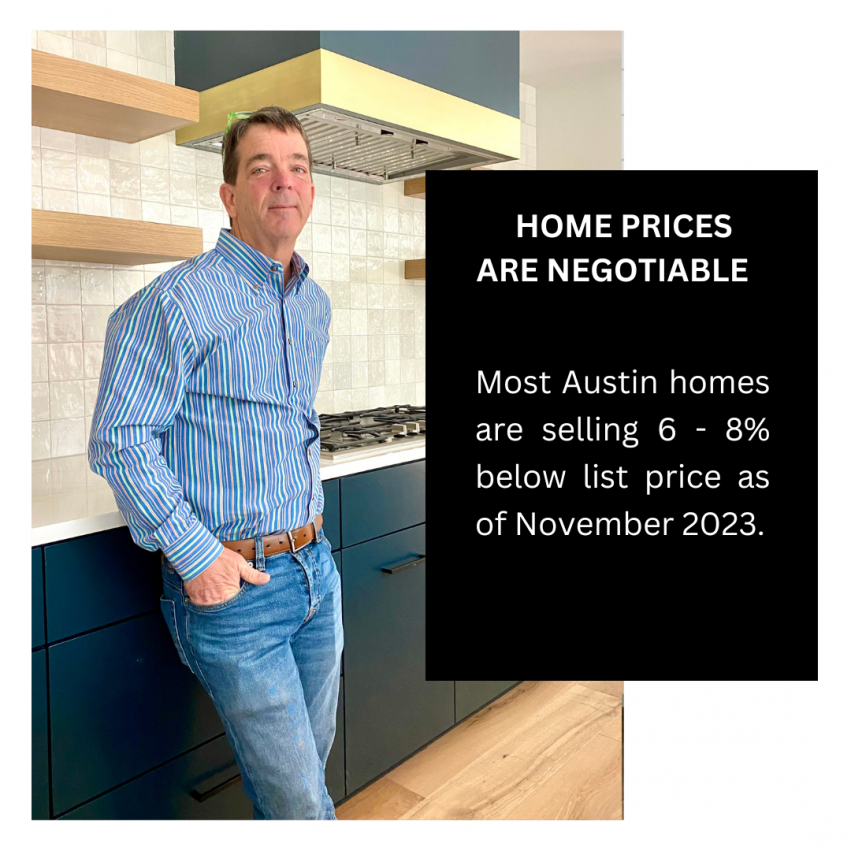 That said, remember that sellers are generally motivated by what they are going to do once they sell their home, and if they cannot get a price that accomplishes that goal, they may opt to hold onto their home or list it on the private market until there is a better time to sell. No one is going to give away their home...
#5 -- Inspect the home no matter what.
It can be tempting to skip paying for a home inspection if you are buying a newer home. Don't! An inspection is critical, and it is arguably more important for homes built during the pandemic when construction workers were slammed and building supplies were hard to acquire.
#6 -- Get access to off market listings.
A large portion of the homes for sale in Austin are being privately marketed right now. That means there are homes for sale that you won't find on the MLS or public-facing sites like Zillow or Redfin. Make sure your agent is showing you everything that's available before you make a purchase decision.
Work with a Realtor who has access to off market properties through membership in the private portals and/or participation in a larger brokerage.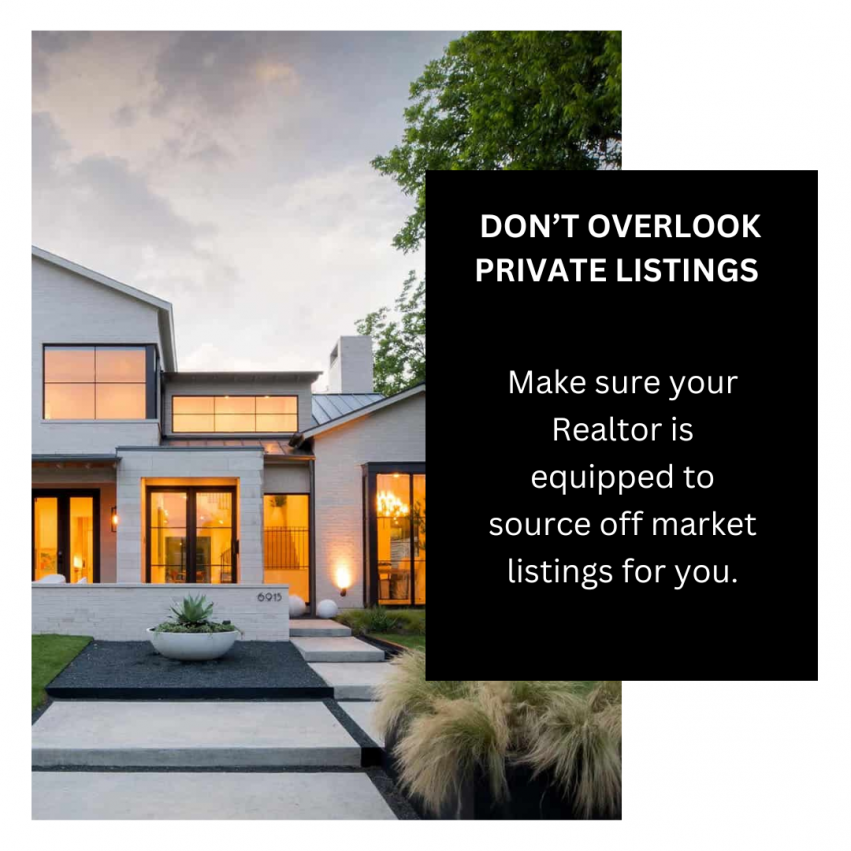 Here's what I mean. Two of the three off market portals have agent eligibility requirements and charge a membership fee. The membership fees are high, and some agents don't meet the prerequisites to participate in these exclusive groups. If your agent doesn't have access to these portals you likely aren't seeing everything on the market.
Also, larger brokerages often share coming soon or private listings exclusively with other agents within the same brokerage, so working with an agent that is part of a larger firm will also get you access to listings you may not otherwise find. To give you an example, Compass currently has 99 private listings available in the city of Austin that you are unlikely to see anywhere else.
You can learn more about off-market listings here.
#7 -- Prepare now so you are ready when the time comes.
The Austin real estate market has a natural seasonality to it, and activity starts to pick up in January and February. That means this is a good time to think through your options before market activity escalates. Even if you aren't ready to buy a home now, you can shorten your learning curve and be ready to act when the time comes by: (1) regularly monitoring the real estate market, (2) developing a relationship with an experienced Realtor that can educate you about the process of buying a home, and (3) connecting with a lender to explore financing. These preliminary steps will help you act confidently once you feel like the time is right for you.
We can help you make sense of your choices
There are a lot of factors to weigh when you are buying a home. Having been through slow downs like this before, we are uniquely prepared to answer your questions so that you can decide what makes the most sense for you.
NOT SURE WHERE TO BEGIN?
Let's talk.
We've personally helped over 700 Austin buyers and sellers during our career.
You can count on our experience to see you through the real estate process with ease and insight.
Schedule a no obligation consult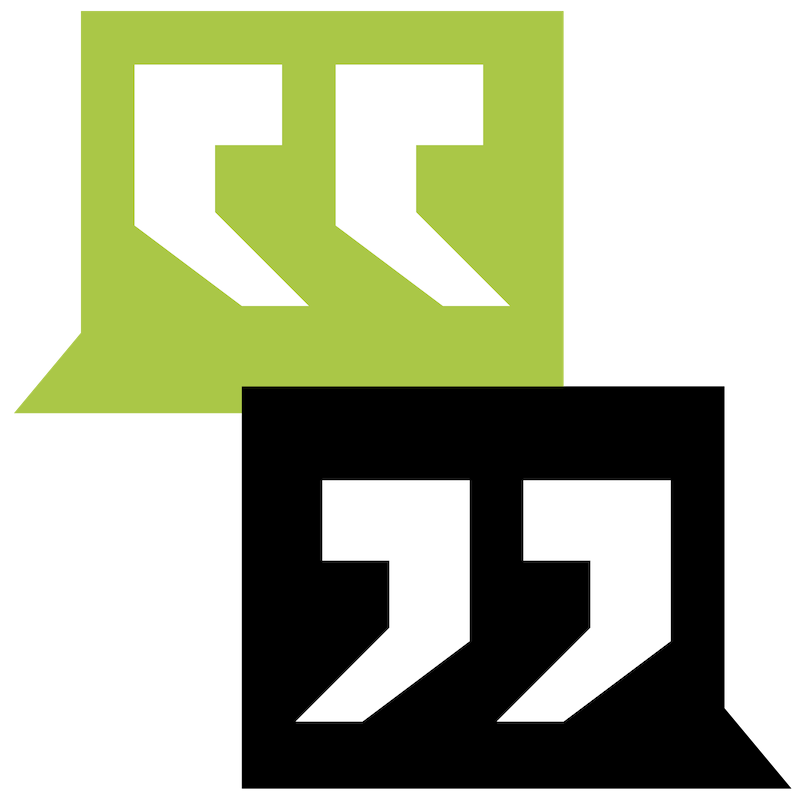 Having previously bought and sold houses in CA, FL, MD, and TX, I have substantial basis to say that Paul Reddam is singularly incredible.
-- David S.