Paint colors that can make or break the sale of your home
First impressions are everything in selling a home quickly. You want to attract as many buyers as possible from the online photos, at the street, and once inside. Most experts will advise you to freshen up the exterior and interior paint to increase your home's appeal.
We agree, but you must choose wisely. Paint colors can have a significant impact in either attracting or repelling buyers. Based on our experience and some market research, we've compiled a list of paint colors that can make or break the sale of your home.
Small investment, big win
A fresh coat of paint on the interior or exterior is a low-cost improvement that makes a big statement. The National Association of Realtors reports that in 2019 a new coat of paint for the interior of your home results in a 107% on the return on investment (ROI), and painting the exterior leads to a 55% ROI.
Exterior paint colors
Let's start with the exterior. Unless you own a painted lady home in San Francisco, you should stick to no more than three paint colors. Sixty percent of the home should be the base body color. Thirty percent of the home can be a secondary color that you use for garage doors and trim. The final ten percent is an accent color reserved for the front door and shutters.
Zillow studied the sale of over 3,200 homes and found that homes that were painted a brown, taupe, or tan stucco sold for less than homes with a white exterior. Yes, white farmhouses are having a moment in home design thanks to Chip and Joanna Gaines.
If you can't stand the idea of a white exterior, try the popular "greige" (a combination of gray and beige). According to Zillow's study, greige homes actually sold for more than homes that were painted white. Our favorite greige is Revere Pewter by Benjamin Moore. We have it in our own home, and we have suggested it to clients with great results. Other greige options include: Titanium by Benjamin Moore, Agreeable Gray by Sherwin Williams, Wilderness Grey by Behr, Perfect Greige by Sherwin Williams, or Pavillion Gray by Farrow and Ball.
Don't just stop at the siding. To elevate your home's selling price even further, paint the front door a contrasting color. In Zillow's study doors that were painted navy blue, dark gray, or charcoal sold for more than houses with white doors. Some stats show that these colors sell for an average of $6,271 more than expected.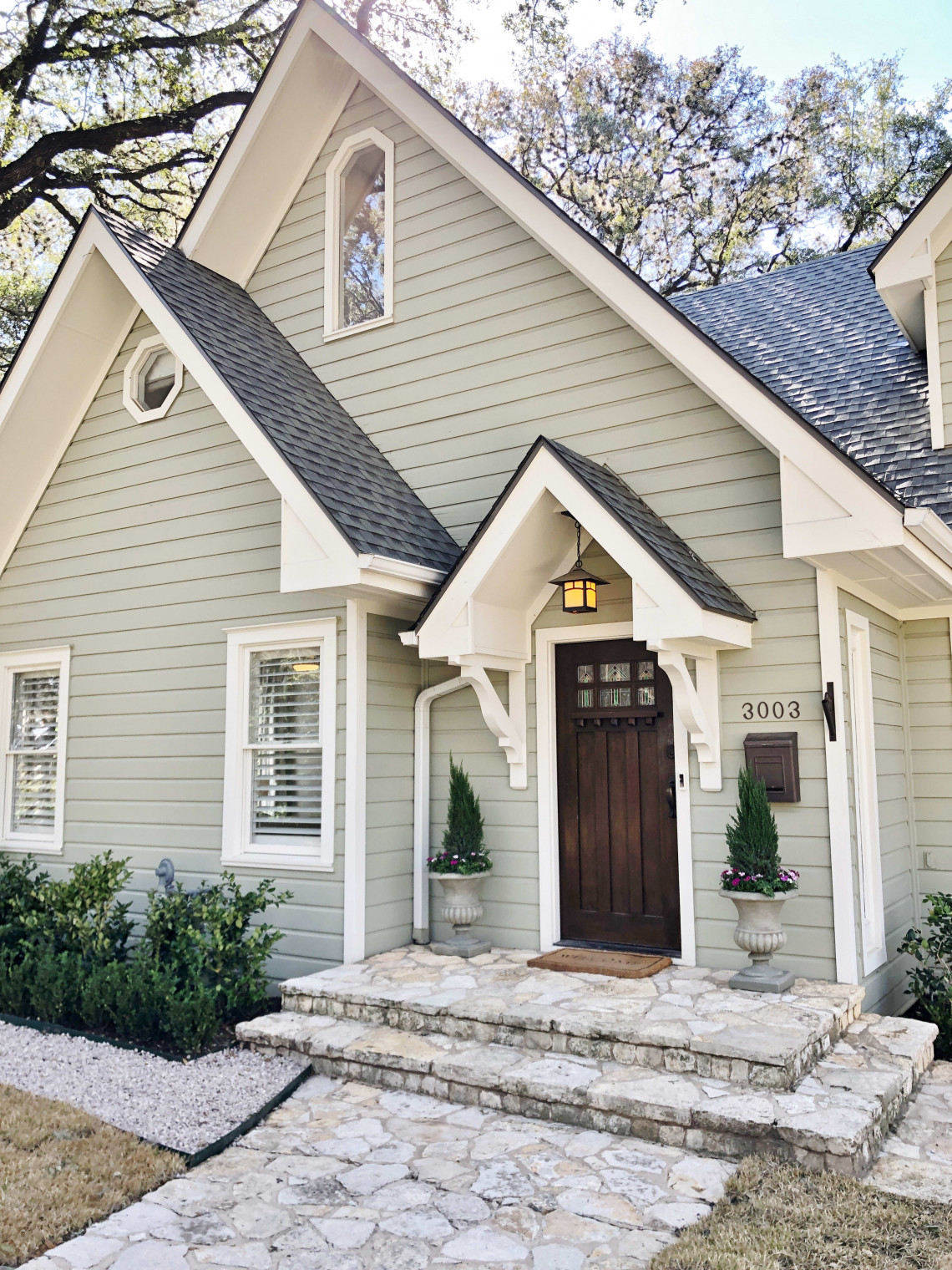 Whatever you do, avoid painting your home what we fondly call "kiss of death" blue. In our experience homes painted this color tend to sit on the market longer. Think of faded Wrangler blue jeans... Here are some examples of this deal-killing color: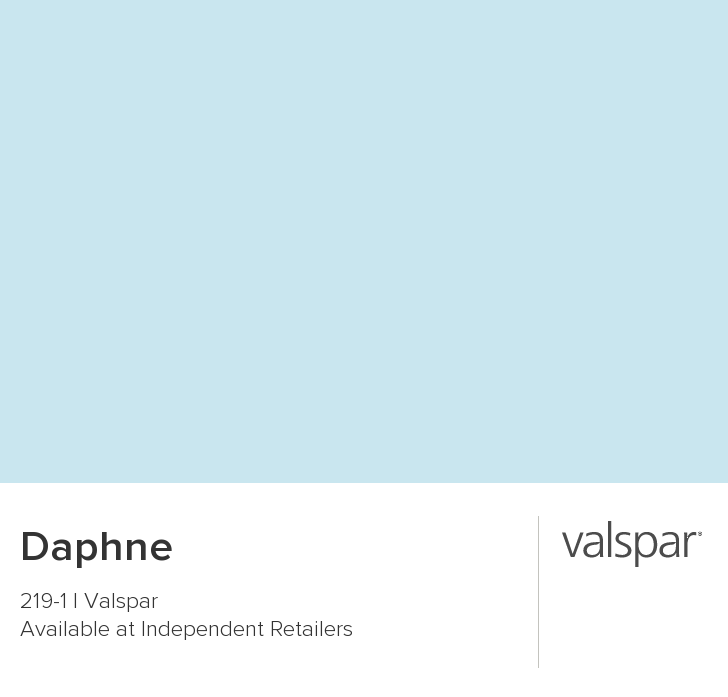 But how to choose? Here are some basic considerations:
1. Select harmonious colors. When choosing an exterior color remember to coordinate with other house elements that you won't be changing, like the roof color, landscaping, stonework, or pathways. All of the elements of your home, including paint color, need to work together in an aesthetically pleasing way.
2. Align your color with the architectural style. A colonial home painted burnt orange would look out of place, but that might be just the thing for a mid-century modern. Mint green would look adorable on a cottage but would seem wrong on a New England salt box. Pick something that works with the architectural style of your home.
3. Try not to stand out too much. You want your home to feel like it fits within the neighborhood. Try not to clash with the other homes in your area.
To each his or her own. If you need some inspiration, check out these 67 inviting home exterior paint combinations from HGTV.
It's what is on the inside that counts
People have strong feelings about interior colors. We suggest you select warm neutral colors. These make it easier for potential buyers to imagine themselves living there.
While a cheery yellow kitchen may make you smile, buyers do NOT like yellow kitchens. While you're at it, stay away from red. Opt for colors found in nature. According to Zillow buyers respond more positively to a soft gray or blue kitchen. Blue (just not kiss of death blue) is the most popular color in the world, which may explain why homes in Zillow's report sold for more when they were painted blue-gray.
Blue held power in bathrooms too. Zillow's analysis revealed that homes with blue bathrooms sold for $5,400 more than their white counterparts. Light periwinkle increases the value by $2,786. Bedrooms with a soft cerulean color have been proven to boost home value.
Before you decide to paint your entire house blue, Zillow reported that buyers were lukewarm about blue or grey living rooms. In these casual spaces buyers were more attracted to beige. Indeed, Zillow found that houses with living rooms painted light beige, pale taupe, or oatmeal added $2,000 to the home's sale compared to those with white walls. Welcome potential buyers into your home by painting your living room a color that makes them feel warm and comfortable.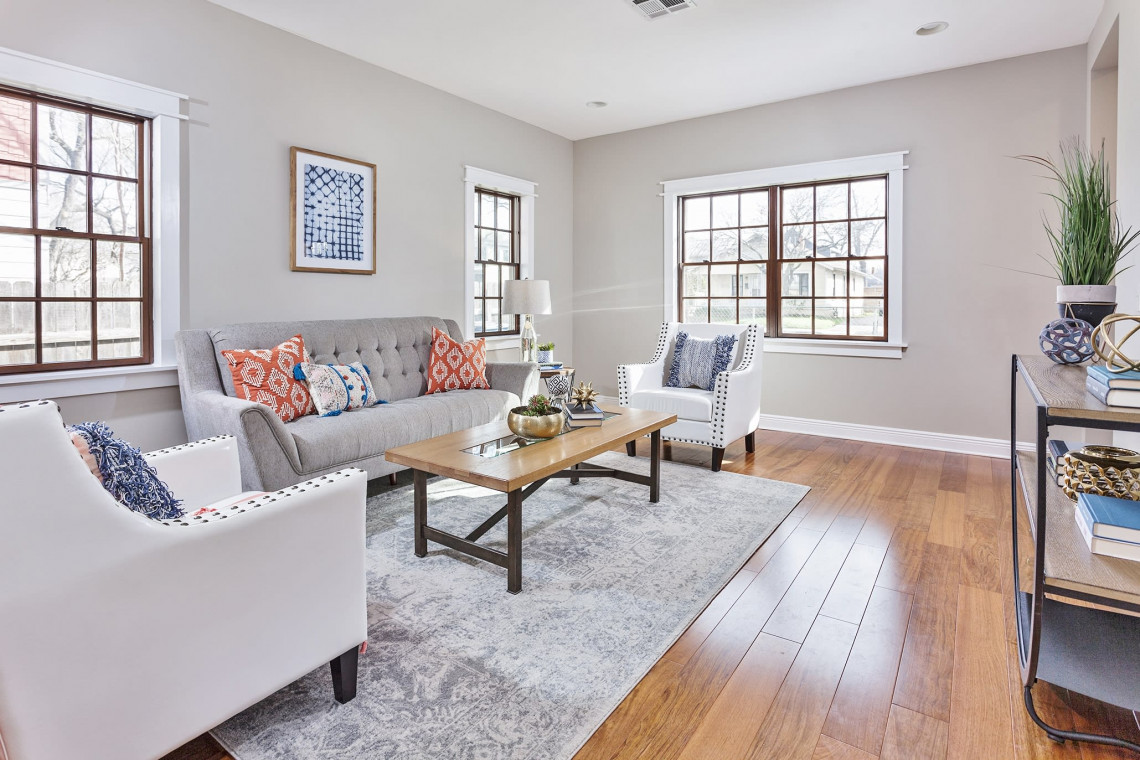 Our advice
Zillow's report is interesting and entertaining. At the same time, we suggest you take it in stride. Color trends come and go. What is popular today (blue bathrooms) may be passé tomorrow.
When it comes to selling your home, we suggest warm and soothing neutrals that reflect light, similar to the greige options outlined above. And while white walls aren't for everyone, they can complement certain home styles (think contemporary) or accentuate architectural features.
If you're looking for advice on how to get your home ready for sale, please reach out. We even have a program called Compass Concierge that can help you cover the upfront cost for cosmetic improvements like painting, staging, and landscaping. You just pay the cost back from your closing proceeds. It's a game changer.
We're here

to help you get the most out of your sale.

Let's talk real estate.

You might also like
If you want to see more homeowner tips and insights related to older Central Austin homes, you might also like this article.