Northwest Hills 2019 home sales in review
Another year of fast sales and rising prices. But exactly how did 2019 impact the value of homes in the Doss Elementary attendance zone?
We crunched the numbers to bring you the scoop on real estate activity in our neighborhood.
SO HOW DID THE NORTHWEST HILLS REAL ESTATE MARKET FARE IN 2019?
Neighborhood labels can mean different things to different people, so for purposes of this update we focused only on those Northwest Hills homes that feed into the Doss Elementary attendance zone.
For starters, a total of 230 properties changed hands in 2019. That's 15 more homes than sold in 2018, yet it's still significantly lower than the 297 home sales back in 2012. This is part of Austin's ongoing low inventory problem, which in turn exacerbates the city's affordability issues.

Here in Northwest Hills I think we are seeing fewer homes exchange hands because (1) so many homeowners have a comfortable mortgage (due to interest rate or amount owed), (2) we have a large proportion of families that don't want to change school zones unless necessary (check out that new Doss Elementary going up on Far West!), and (3) the rate of appreciation across Austin makes it difficult to find similar or comparable homes at the same price. Put it all together and it's the perfect example of supply and demand. With few Northwest Hills homes hitting the market, demand – and prices – are increasing.
How much of an increase are we talking about? Overall the portion of Northwest Hills that feeds into the Doss attendance zone saw 4.93% appreciation with the average single family home costing $861,312. If we look back to 2012 when our market started to take off, we are up 52%. Go Doss Owls! That's a nice return if you look at your home as an investment, but not so nice when it comes to paying property taxes…
Also notable, 39% of our homes sold during the first week on market, and 34% of them sold for over asking price. For those homes that sold over list price, the sellers got a median of 3% over the asking price.
WHAT'S POPULAR AMONG SINGLE FAMILY HOMES?
Homes that are nicely updated or new are performing the best, showing us that there's still a strong desire to find a home that is move-in ready. Popular features include natural light, an open floor plan, ample storage space, reasonably sized bedrooms and closets, swimming pools, and an owner's bedroom with en suite bathroom.
There's also high demand for 5+ bedroom homes. Once again we personally had clients that wanted to buy a large home in Northwest Hills, but our low inventory of updated homes available to purchase drove them to purchase homes in neighborhoods further out like River Place, Steiner Ranch, and Spicewood at Balcones.
If you look at all the new construction happening around us, it's clear builders are very aware of the desire for updated homes in Northwest Hills -- and it shows in the prices. At the start of 2019 you could buy a fixer upper for around $550,000, but prices got dramatically more expensive as the year progressed. One fixer on a very busy intersection even sold for $700,000, and another one on a gorgeous lot with views sold for around $775,000.
WHAT DO THE SALE PRICES LOOK LIKE FOR SINGLE FAMILY HOMES?
It's no surprise our Northwest Hills homes are getting more expensive. During the Spring 2019 it was difficult to find a home under $850,000. These days if someone is looking for a nice 3,000 square foot home with at least four bedrooms and a yard, $900,000 is the new going rate.

Price per foot never tells the whole story, but it is something I'm asked about often. With prices creeping up, our Doss homes have a new baseline of $300 - 400 per square foot, with $297 being the average. The highest price per foot sold in 2019 was $485.57 for a fantastic home with a view and small swimming pool. Overall, price per foot in our neighborhood tends to breakdown like this:
$300 a foot for average,

$340 a foot for nice,

$360 a foot for remodeled,

$400 a foot for very nice with a view, and

$450 a foot for new construction.
And please remember, these are just stats. Every house is different, and every sale is unique. Please reach out to someone with extensive experience in the Central Austin market to consider how this data can impact your personal situation.
As prices rise, so too does the number of million dollar home sales. In fact, 21% of homes in the Doss attendance zone sold for over $1,000,000. Compare that to 17% in 2018, and 14% in 2017. But what exactly does $1,000,000 buy you in Northwest Hills? That will get you a 4-5 bedroom home on a .3 acre lot around with around 3000 square feet of space. These homes are nice and comfortable, usually closer to Doss Elementary or with a view.
The most expensive home sold in 2019 was down near Bull Creek. It was a beautiful new construction home on spacious lot, but there was no pool and no view. Even so, it sold for over 1.8M.
WHAT ARE THE TRENDS FOR CONDOS AND TOWNHOMES?
It was another good year for condo and townhome sales. However, unlike single family homes, the average or median price for townhomes did not increase. In fact, the average price of townhomes declined, but we really have too few units to call it a trend. I feel that our townhomes are undervalued relative to what you can get in Northwest Hills or Austin in general. That makes them a great choice for folks wanting to get into the neighborhood without the higher price tag.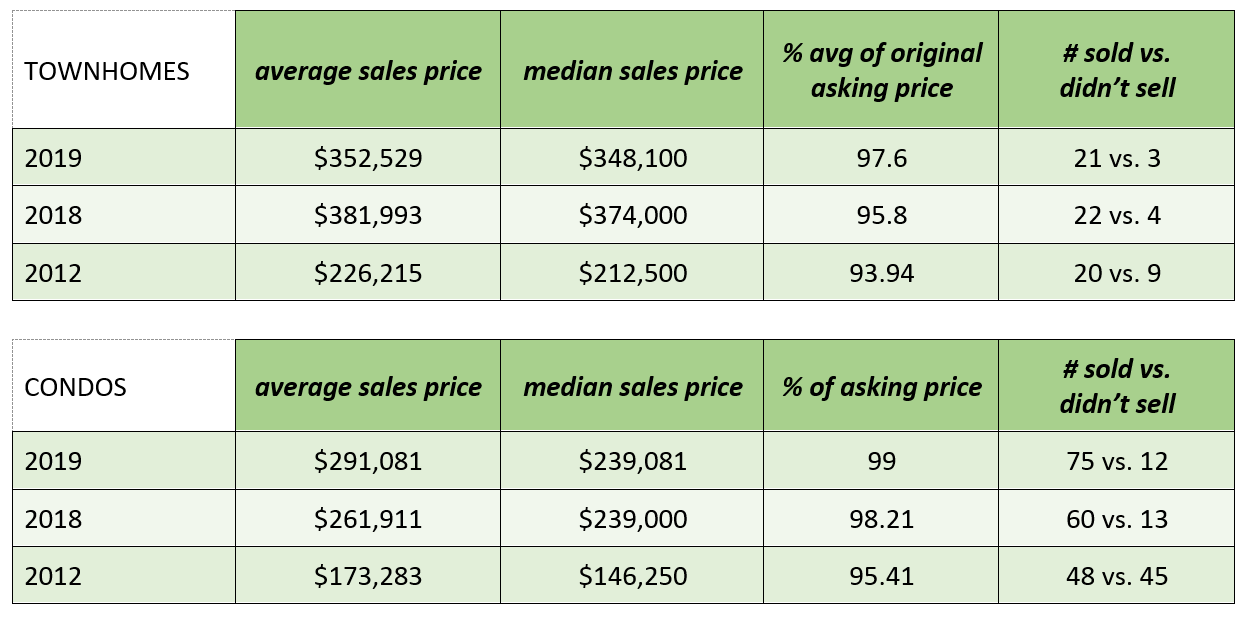 SO WHERE IS THE NORTHWEST HILLS REAL ESTATE MARKET HEADED IN 2020?
The roaring twenties will be an interesting year. The predominant thought is that the 2020 real estate market will be strong thanks to low interest rates. Personally, I think most of the real estate transactions will be front loaded as many people choose to sell earlier in the year to avoid any volatility that might come with the presidential election in November.
As for here at home in Northwest Hills, my 26 years of experience in Central Austin real estate tells me that we should see another 4% appreciation in 2020. While I don't have a crystal ball, this aligns with our historical averages.
If you are a seller: Hold on to your property if you can and let those long-term appreciation rates make you more money. I expect demand will only increase once the new Doss Elementary School opens in the fall, so keep that in mind as well. If you need to sell this year do it early in the year to avoid any kind of paralysis we see in the market place.
Also, use the seasonality of the market to your advantage. Prices are often 6 – 8% higher in the spring than they are in the fall and winter. Take advantage of the seasonality to maximize your price.
While you're at it, put some effort in preparing your home for market. Painting, cleaning, landscaping, and staging are all more important now as buyers' place a premium on move-in ready homes. If you need help, just say the word. Our new concierge program helps initially cover these upfront costs so you don't have to come out of pocket.
If you are a buyer: Buy when the right opportunity comes along. There are not very many options available to you these days, and we don't see that changing anytime soon with more jobs coming to town and fewer people leaving.
If timing isn't an issue, hold off buying until the fall. I expect some buyers (not you, of course) may delay their purchase until they know the outcome of the presidential election. With fewer buyers competing for homes, I anticipate that this will be a good time to strike a deal. After all, regardless of who our president might be, the market will march on.
LIKE WHAT YOU READ? LET'S TALK.
We live and work in Northwest Hills, and you'll likely see us at the bus stop in the morning or picking up in the afternoon. We'd love to grab a coffee with you. We can discuss the perils of cast iron plumbing and aluminum wiring that's so prevalent in our neighborhood, go over the three steps that sellers should take to optimize their sales price, or just shoot the breeze. Either way, we're looking forward to it. Schedule a consult now.

Interested in Northwest Hills? We've got the scoop.
School info, architectural style, neighborhood history, and even our favorite places. You'll find all that and more on our helpful neighborhood snapshot. See what it's like to live here and search for other available homes in the area.