Get a taste of Austin at these restaurants with outdoor patios
Austin has notoriously beautiful weather, with an average high of 79.7 degrees (except in the summer when it is hot and humid, but we don't talk about that). Most restaurants make the most of this by offering patios for outdoor dining. Whether it's a small cluster of seats along the sidewalk in downtown Austin or an expansive patio by the water, here are some great choices for going out and getting outside.
Near Downtown Austin
Aba Austin (1011 South Congress) -- Here you'll find Mediterranean-inspired fare with one of the most beautiful patios under the trees.
Lenoir (1807 S First St) -- Visit the backyard wine garden shaded by 500 year old oak trees and enjoy yummy meals prepared with locally sourced ingredients.
Mattie's (811 West Live Oak) -- Dine on the lawn of this historic home and watch the peacocks strut while noshing on thoughtfully sourced dishes with a Southern flair.
Perla's (1400 South Congress) -- One of the best seafood restaurants with a great outdoor patio overlooking South Congress Avenue; perfect for people watching.
Uchi (801 S. Lamar) -- This non-traditional sushi from James Beard Award-winning Chef Tyson Cole is a must-try meal.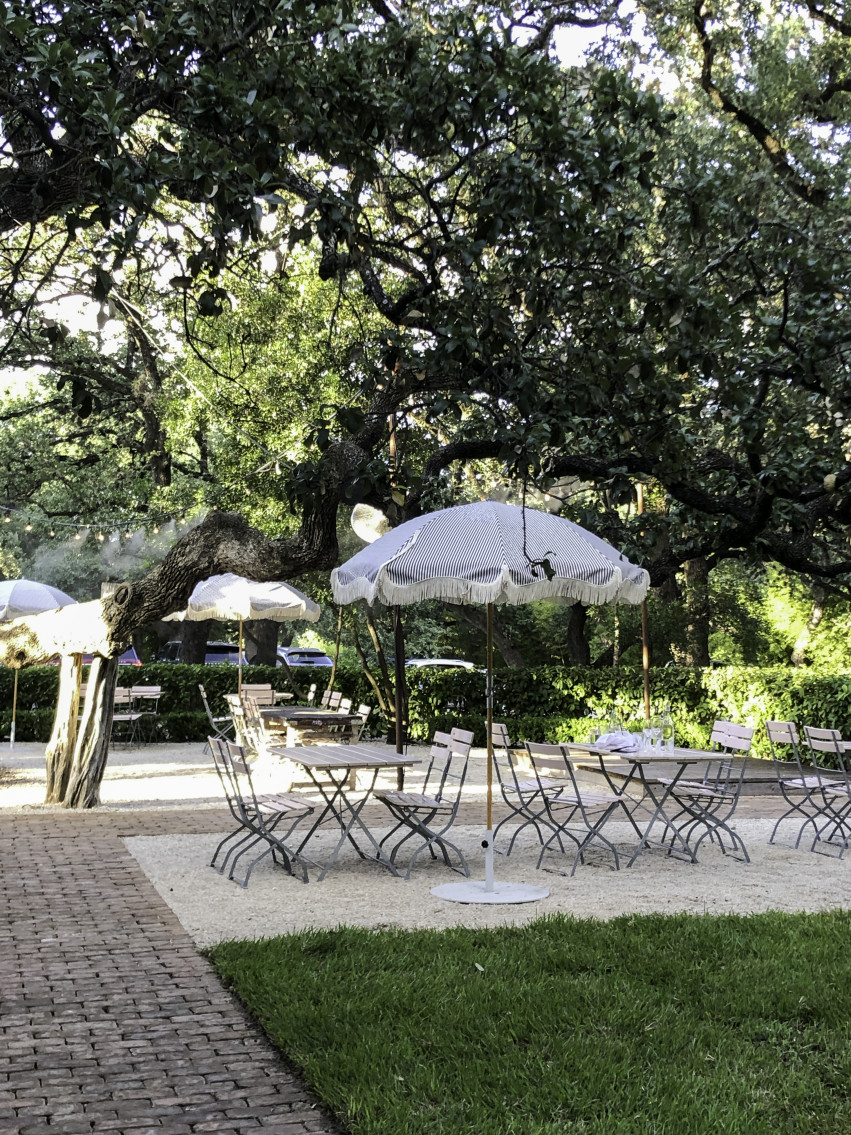 Near East Austin
Contigo (2027 Anchor Lane) -- Stay and chat awhile on the expansive patio accented with twinkle lights.
Easy Tiger (1501 E 7th St or 3508 S Lamar Blvd) -- This hip hangout along the creek has divine pretzels and bread, along with craft beer, sandwiches, and salads.
Launderette (2115 Holly Street) -- Served in a converted gas station, this popular ATX eatery offers new American food.
Pitchfork Pretty (2708 East Cesar Chavez) -- An upscale family-style restaurant that grows many of their own ingredients.

Rosewood Gulf Coast Chop House (1209 Rosewood Ave) -- Explore Texas cuisine indoors or on the grounds of this historic home.
Salty Sow (1917 Manor Rd) -- This gastropub serves contemporary farmhouse food and hand-crafted cocktails, including tasting flights.
Tillery Kitchen & Bar (3201 East Cesar Chavez) -- Situated on the Colorado River with beautiful water views, you can enjoy light bites on the outdoor lounge.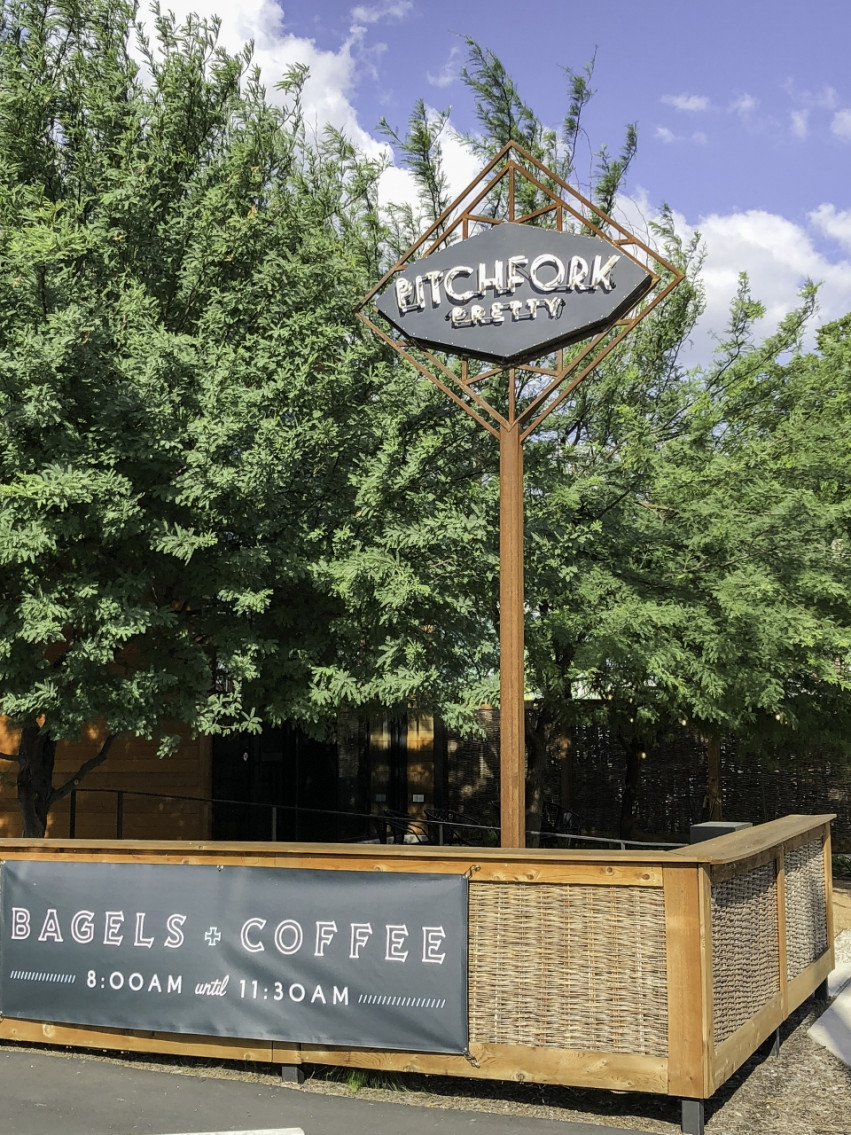 Near Central Austin
Hopdoddy Burger Bar (2438 West Anderson Ln) -- Upscale burgers, brews, and killer milkshakes often attract a long line of diners.
Hula Hut (3825 Lake Austin Blvd) -- Enjoy an umbrella in your drink by the water surrounded by festive and colorful decor.
Josephine House (1601 Waterston) -- Dine on the front lawn or in the banquettes in the backyard of this cute cottage. The menu focuses on locally sourced ingredients.
Olive & June (3411 Glenview Ave) -- Enjoy fresh Italian food on the patio under the shade of a giant live oak tree.
Santa Rita Cantina (1206 West 38th Str) -- Tasty Tex-Mex in a colorful environment. The back patio is enclosed with mural-adorned walls. Try the prickly pear margarita.
Scholz Garten (1607 San Jacinto) -- The oldest biergarten in Austin has a nice patio complete with games and live music where you can enjoy traditional German food and classic American dishes.
Tiny Boxwood (1503 West 35th Str)-- Upscale American food with a lovely outdoor patio surrounded by boxwood hedges and adorned with umbrellas.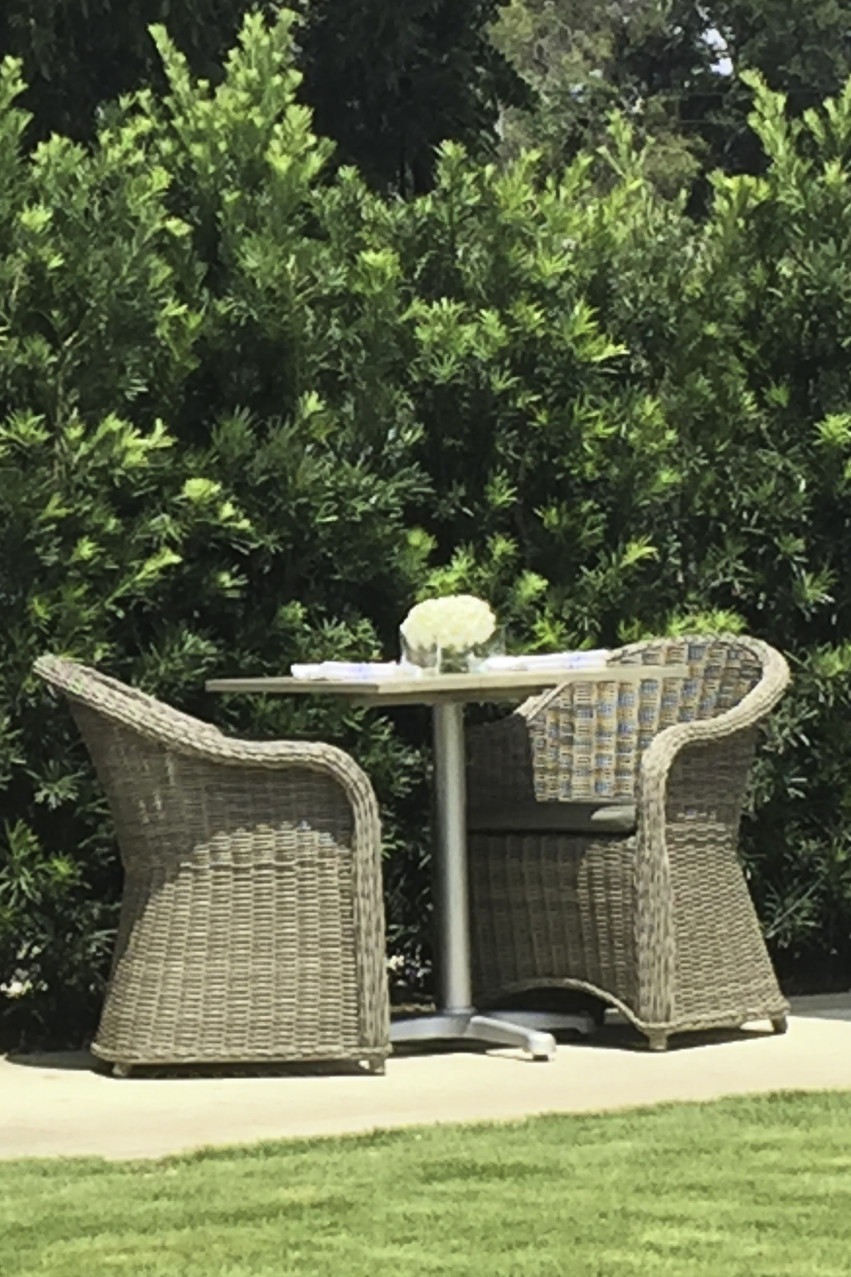 Near North Austin
Aviator Pizza & Drafthouse (4005 West Parmer Ln) -- There's something for everyone here. The outdoor beer garden has a large playscape, and they welcome your furry family members too.
Culinary Dropout (11721 Rock Rose) -- You can enjoy classic fare like meatloaf, but the real draw here is sipping a beer or cocktail while you play lawn games on the patio.
Phil's Icehouse (13265 US Hwy 183 N) -- Jam out on your choice of burgers and hot dogs -- all named for old Austin neighborhoods -- while the kids explore the outdoor playground under the shade trees.
Roaring Fork (10850 Stonelake Blvd.) -- An airy outdoor patio offers scenic views of Quarry Lake while you enjoy a full bar and menu featuring American classics cooked on the wood-fired grill.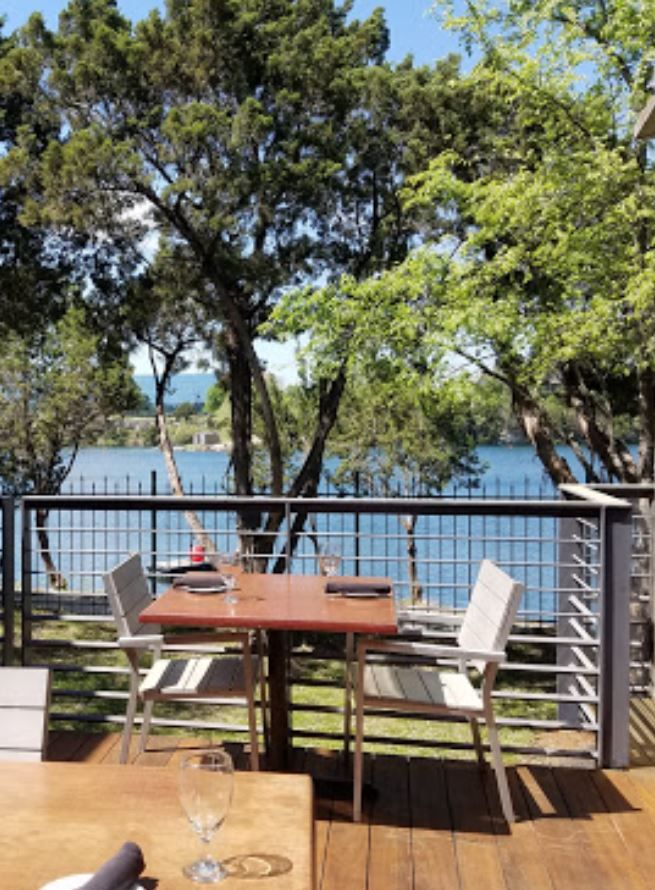 Near South Austin
ABGB (1305 West Oltorf St) -- Enjoy pints and pizza with a side of live music while you sit at one of the many picnic tables outside.
Doc's Backyard & Grill (5207 Brodie Ln) -- This casual spot has a dog-friendly patio with picnic benches, misting fans to keep you cool, and there are plenty of TVs for enjoying Longhorn football.
Loro (2115 South Lamar) -- Created by James Beard Award winners, Chef Tyson Cole and Aaron Franklin, this popular eatery features Asian BBQ fusion. Dine at picnic tables or just hang out on the swings under the trees on the patio.
Radio Coffee & Beer (4208 Manchaca Rd) -- Food trucks offer patrons a choice of dishes while you sip your coffee and/or beer on the patio.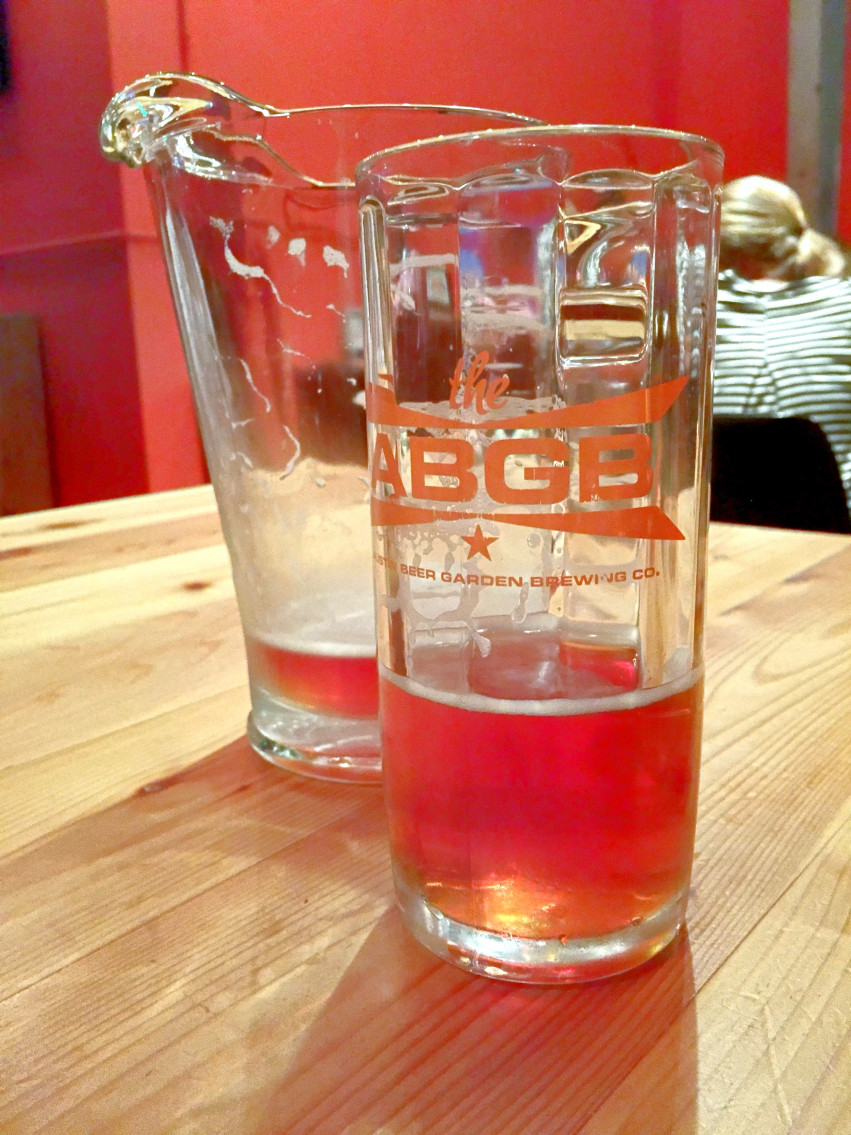 FIND AN AUSTIN HOME YOU LOVE
We educate you on Austin neighborhoods, help you avoid costly mistakes, and guide you through the process of finding that special home where your best memories will be made.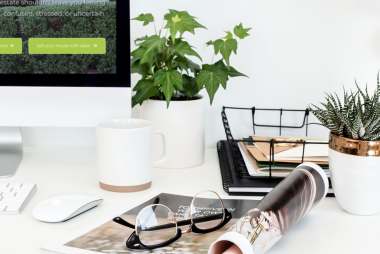 SELL YOUR AUSTIN HOME WITH EASE
We help you keep all the balls in the air, reduce the stress of the process, all while attracting potential buyers to your house so you can sell quickly for the best price.