Four factors that could impact Austin's Fall real estate market
Because history and experience are the best teachers, I usually have a decent idea of how Austin's real estate market will perform as we head into the last quarter of the year. But as 2020 has proven, this year has been far from predictable.
When the year started, the Austin market was strong and full of promise. Then COVID-19 put the brakes on things. It was hard and scary, but after a brief slow down, Austin home sales experienced a slingshot effect as pent up housing demand was unleashed.
The Austin real estate market hasn't really slowed down since…
HOW THE AUSTIN REAL ESTATE MARKET IS PERFORMING
As of August 2020, the City of Austin's home prices (not the metro) are up 14% year over year reaching a median sales price of $435,000. We only have 1,468 active listings; that's down 26%! This is some of the lowest housing inventory I've ever experienced in my 25+ year career. Demand remains high as buyers compete for the best properties, which leads to multiple offers and rising prices. For context, in August 1,314 homes were pending; an increase of 20% year over year. Homes are only staying on the market 28 days (10 days less than this time last year), which equates to homes going under contract the first weekend on the market and closing in a month's time.
FOUR FACTORS THAT COULD IMPACT HOUSING IN THE 4TH QUARTER OF THE YEAR
So things look pretty good, but as we've learned, 2020 can be full of nasty surprises. Here are four key things that could have an impact on the Austin market as we finish out this historic year:
The Presidential Election

Austin ISD returns to school

Unemployment

Eviction Moratoriums
1) POTENTIAL IMPACT OF THE PRESIDENTIAL ELECTION

Election years often bring uncertainty. Because of that uncertainty Austin home sales usually slow dramatically the month prior to the election. While the demand or need for homes never goes away, buyers and sellers essentially pause as they wait to see the outcome of the election.
While I'd normally look to history as a guide, as I've stated 2020 has proven hard to predict. Time may prove me wrong, but I think there is a good chance that because we already have so few homes on the market Austin may not actually see any real estate slow down whatsoever. Fingers crossed.
2) AUSTIN'S UNEMPLOYMENT RATE IS IMPROVING
The unemployment rate is thankfully going down. Austin hasn't fully recovered, but it's looking better than most of our peers. For the month of July Austin's unemployment rate was the lowest among the 50 largest metros, around 3.8% higher than it was the same time last year. As of August, the local unemployment rate dropped to 5.6%. Unfortunately, that 5.6% means there are still 34,356 people who need and want jobs, but things continue to improve as time goes on.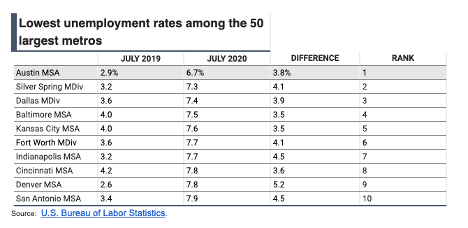 Austin is also doing well compared to the rest of the United States. U.S. Bureau of Labor statistics reported that the national unemployment rate is 8.4%, which is projected to drop to 6.6% in 2021 and 5.5% in 2022.
3) TRICKLE UP EFFECT OF THE EVICTION MORATORIUM

Earlier this month the Trump administration announced an emergency eviction moratorium that would limit the possibility of eviction for renters who suffered financially because of the pandemic. With widespread business closures and high unemployment rates, the moratorium is intended to keep people in their homes and out of crowded homeless shelters or other living conditions that could further spread COVID-19. There are lots of nuances to how this works, but you can check out this New York Times article for an overview. Austin's Mayor Adler also issued a local eviction moratorium that is scheduled to expire on September 30th.
While I support the purpose behind the eviction moratorium, it has the potential to have a trickle up effect that could in turn impact our Austin housing market. Even if a tenant cannot pay the rent the owner of the rental property still has to pay his or her mortgage. Many landlords rely on the tenant payments to cover most if not all of that mortgage. Not all landlords have the ability to make the payments for these rental properties without the contribution of tenant rent, especially for months on end.
I'm concerned about the small real estate investor that owns a few rental homes. About 15 million properties are owned by small landlords in the United States. Will these small landlords begin to default on their investment properties? While the eviction moratorium may provide a temporary solution to one problem, it may create another one.
4) UNCERTAINTY AS AUSTIN ISD RETURNS TO SCHOOL

Austin ISD recently announced its phased in approach to re-opening. (Whiplash, anyone?) We will begin to see 25% of the youngest grade level students begin to return to school in early October, with more grade levels having the potential to return to school each week so long as our local COVID-19 statistics continue to trend downward. This is a hot button for so many folks, our family included since we have a 1st grader and 4th grader at home right now. While I'm pleased with the safety measures that the District has announced, I can't help but wonder if we will see an increase in positive cases? Plus, we are already seeing some European countries experience a second wave of the coronavirus.
Will going back to school lead to an increase in cases which could lead to more business restrictions? To more job loss? To less real estate activity? Obviously, I don't know. What I do know is that business closures and job loss can impact our real estate market. Time will tell.
MY BEST GUESS ON HOW THE AUSTIN REAL ESTATE MARKET WILL FARE
If I were to wager an educated guess, I think we will see some seasonal slowing as we would normally see this time of year but I don't anticipate big shifts in the Austin real estate market.
If you are thinking of selling, I think it's still a fantastic time to put your Austin home on the market. If it's priced right, in the right location, in decent condition, and marketed properly you are likely to attract multiple offers that may exceed your expectations. Like Billy Squier sings "Everybody Wants You!"
For buyers, this market is tough with a capital T. That doesn't mean you can't find an amazing home, but it will mean you have to move fast and be ready to make a serious offer if you want to be competitive. This is where our extensive experience will serve you well.
We may see some mild softening as folks start turning their attention to the election and focus on getting their kids adjusted to school. Softening does NOT mean that I think prices will go down, but it might be a little less competitive. This is likely to be a short window of opportunity for buyers; I expect the pace of home sales will pick back up after the election. If you are thinking about waiting until the market cools down to make your move, I urge you to think again. We have a very real housing shortage in Austin; it would take a lot of folks leaving the city to slow this market down considerably.
WHEN YOU'RE READY, WE ARE HERE
When you're ready for your next move, we are here. Reach out to dream about what's possible, run numbers, or share what's going on with you. We hope to connect either way.
Stay safe out and sound out there.
September 24, 2020
You might also like
If you want to see more information on how the Austin real estate market is performing, you might like these articles.
Stay on top of the Austin real estate market.
Sign up for our email updates.
I agree to be contacted by Homesville Realty Group | Compass via call, email, and text. To opt-out, you can reply 'STOP' at any time or click the unsubscribe link in the emails. Message and data rates may apply.
We respect your inbox. We only send interesting and relevant emails.
Woo hoo! We've added you to the list.
Thanks for subscribing to our blog updates. Look for market updates, community features, hot properties, and design trends in your mailbox soon. Until then, join our journey on Instagram. We always want to add value, so you can unsubscribe at any time.
Get the behind-the-scenes scoop on Instagram