Real Estate Reflections: Has the Austin real estate market hit bottom?
The decline in Austin home values started to slow between October and November. Is this a sign that we are getting close to the bottom? Or is this a head fake?
As most probably know, Austin home prices trended downward for the last seven months. At one point home values were dropping around $15K per month. Interestingly, the rate of price declines has started to slow down.
Are we out of the woods? No, but there are positive things happening.
The reality is that no one knows when we will hit bottom. It's usually not until the market stats begin to show an increase in prices that we realize we hit bottom and are already on the way back up. Even the pundits differ wildly in their predictions for next year with some like the Mortgage Bankers Association saying prices will go up 2.8% and others like Zelman saying prices will go down another 4%.

I care less about what the corporate suits are saying and more about what we are really seeing and feeling here in Austin. While we have some headwinds that we are facing as we move into 2023, I have an overall optimistic outlook for the 2023 Austin housing market.
WHAT THE REAL ESTATE STATS TELL US
For awhile Austin home prices were dropping at a brisk pace, and we quickly started to eat into the appreciation that was gained during 2021. Using median price per foot as a basic measure, in January 2022 the median price per foot across the Austin metro started at $246. Home prices peaked in at $281 per square foot in April 2022, and from there home prices started to decline at a rate of $6 per foot each month. For a 2,500 square foot house, that created a price difference of $15,000 a month, with slight variances from month to month. The last round of data released by the Austin Board of Realtors (which is always 30 days delayed) shows that the price declines slowed to $1 per square foot between October and November. See for yourself in the chart below.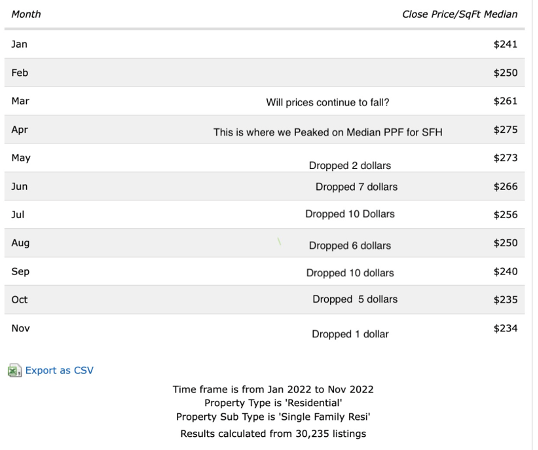 Certainly a slow down in price declines is a positive indicator that the brakes are on and we may be close to the bottom. This is particularly relevant considering that the December holiday season is typically a slow time for Austin real estate as people focus on friends and family. This tells me that buyers have more confidence and are making more moves.
A slowing decline in price per foot isn't the only positive indicator I'm seeing. Interest rates began to fall on November 7th after the last Consumer Price Index was released. While we had reached 7.08%, today rates are down to 6.33%. We also saw a small uptick in buyers applying for mortgages, with the index average inching up from 199.9 to 204.2; it's not a big move but it is another signal in a positive direction. The stock market has also been rallying since September 30th. Taken together, these factors suggest we may be approaching bottom.
Or maybe not if the Fed has its way…. Our next big indicator comes on December 13th when we will see the latest Consumer Price Index numbers.
OUTSIDE FORCES COULD DELAY AN AUSTIN MARKET REBOUND
The 2023 real estate market is going to be driven by two things: the Fed and unemployment. On one hand the most recent job report came back really strong. Usually, that would be great news. But… A strong job report will likely encourage the Fed to err on the side of caution and continue with their interest rate hikes. After all, if most folks that want to be employed are employed, how bad can a recession be when everyone is getting paid?
While we can't predict with certainty what will happen, the Fed is expected to increase rates in December 2022 and January 2023, and now our strong unemployment numbers may mean the Fed raises rates in February too in order to get us to a 4 – 5% unemployment rate. We are currently at 2.7% unemployment in Austin, which means to get to 5% unemployment, there will need to be another 24,935 Austinites losing their jobs. That's a staggering number. It's likely we will see mass layoffs sooner or later. Facebook already dropped 200 folks here in Austin, and it's probable other large employers will follow suit. About half of the population is renting a home, and the other half own a home, so if 24,935 Austinites lose their jobs, we can assume that about half of them will displaced, likely resulting in an increased supply of homes with some distressed sellers that have to sell.
How does that affect housing? There are a lot of unknown variables at play, but in the worst case scenario the combination of downward pricing pressure from increasing interest rates along with a notable increase in housing supply may result in a stronger buyers' market than we've seen in 2022. All that to say, outside forces may deter or delay Austin's natural tendency to rebound.
WHAT MY GUT TELLS ME ABOUT THE 2023 REAL ESTATE MARKET
I should probably stop there and leave it to the data, but I've been doing this long enough to have a decent read of the market. My gut tells me we are about to see an increase in activity; I just don't know if it's a true recovery or a short-term burst.
Between the holiday slow down and the chilling effect of rising interest rates and the uncertain economy, the market should feel quiet this time of year. Yet, I feel movement. There's an undercurrent of activity building. Hence, my optimism.
I'm not sure if it's interest rates or impatience or people coming to terms with our current economic situation, but things are starting to move. I see it in the number of buyers that are reaching out to us from Yelp. I see it in the number of clients that are starting to make offers on homes. I measure it by how quickly the homes we are scheduling to show our clients go under contract. It's reflected in the slowing decline in price per foot for homes. I'm not going to say we've hit bottom, but there is definitely a shift in temperament here in Austin as our market shows more and more signs of life.
But is it the right time to buy?
Are homes still selling?
What can I afford given the rise in interest rates?
Is it better to lease my home now and sell later?
Or should I sell now because prices are going to keep going down?
Will Austin continue to be a strong real estate investment?

There are a lot of questions to sort through. I've been through slow-downs like this before and can guide you through deciding if this is the right time to make a move given your personal situation. We should talk. But in the meantime, here's some general advice for Austin home buyers and sellers:
IS IT A GOOD TIME TO BUY A HOUSE IN AUSTIN?
I think so. Here's why.

1) You have less competition for homes because fewer buyers are house hunting.

2) You have more inventory to choose from, which again helps reduce competition.

3) You don't have to be in such a rush to make a purchase decision since there is less competition.

4) Gone are the draconian measures in purchase contracts designed for only the sellers' benefit like we saw in 2020 and 2021.

5) Sellers are negotiable! Make an offer. You may be surprised where things land. Most negotiations these days are resulting in a 3 – 6% price reduction, and in some cases more.

6) In some areas Austin home prices are declining which can help offset higher interest rates.

7) Declining home prices will likely put you in a position to see your home appreciate in value when the market heats up again. And history tells us it will heat up again...
8) Most of the time your mortgage interest rate can be adjusted later once rates come down. We are pleased to see many lenders getting creative with their offerings and even offering reduced refinancing costs.
9) Once interest rates (and risk) go down, market prices will go up. Once it's clear we have found bottom, I predict that cash buyers will take advantage of low prices and scoop up properties. Historic seasonality is also likely to nudge prices up in the spring.
10) Rates may continue to rise over the next couple of months as the Fed continues to fight inflation. Today's 6.33% interest rate may look good in the rearview mirror.
Of all the considerations, interest rates are certainly top of mind. Rates and prices are like a see-saw right now. You can get a lower purchase price now with higher rates and plan to refinance later. The other choice is to wait for the Austin market to recover and pay a higher purchase price with lower rates later on. I'm not sure we will get back to 4% interest rates, but I can imagine a 5% rate in the next few years. It's all a trade off.
Personally, I like the first option. It's the bold move. If you can hold onto your property for several years, I think you will be thrilled with the result when it's time to sell. Folks that can get in the market when prices are on the decline reap bigger rewards when prices go up. And over time, Austin real estate prices have historically gone up. Either option will likely help you build wealth, but the first option is likely to see a better return.
I see our current real estate market as an opportunity. An opportunity to get that first home you've been dreaming about. An opportunity to get properties for a price we likely won't see in years to come. An opportunity to build a real estate portfolio and wealth in the process.
Even if you aren't ready to buy right now, it is a good time to start preparing so you're ready. Here are three things you can do now:

1) Start watching the market more closely. Get back online and look at homes, see if there are homes you like, and pay attention to how long they sit on the market. We can even set up an automated search for you so it's easy.

2) Educate yourself about the process of buying a home. Talk to an experienced Realtor, like us, and get your questions answered.

3) Develop a relationship with a lender and begin to explore what type of house payment you are comfortable with.
IS IT A GOOD TIME TO SELL A HOME IN AUSTIN?
This is not the ideal time to sell. If you don't have to sell, I'd suggest you hold on to your property if you can. Hopefully by the early spring we will see more buyer activity.
To help you gauge your odds of selling your home right now, check out these two charts. The first one shows home sales year to date, and the second one shows a historical review. Pay attention to the green active listings as compared to the blue listings that sold. The odds of selling were strong in the first quarter of 2022. As more homes come on the market and don't sell, the odds of a successful sale decrease.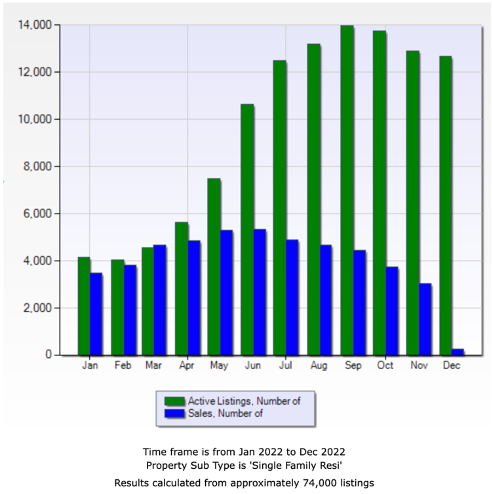 If you have to sell, price and presentation are paramount. Buyers want a home that is updated and move in ready. We can talk you through what improvements will get the biggest bang for your buck, and our Compass Concierge program can help you fund those projects if cash is tight. Another option is to go the rental route and wait to sell when the market rebounds. Be ready to offer good lease rates, because more folks are now competing for good tenants.
If you are not planning to move any time soon, don't give this too much thought. This is all about today's interest rates and uncertainty in today's world. These issues are most relevant when you are actually planning to move.
CHEERS TO 2023
If selling or buying a home in Austin is on your action list for 2023, we can help you sort it out. Don't get discouraged. And don't give up. There is always a path forward. We will come up with a plan with discrete, actionable items. We will collaborate with you, answer all of your questions, and walk you through it step by step. And then you decide what makes the most sense for you. We're here for you regardless.
Cheers to you! Wishing you much love, peace, and happiness this holiday season and beyond.
FIND AN AUSTIN HOME YOU LOVE
We educate you on Austin neighborhoods, help you avoid costly mistakes, and guide you through the process of finding that special home where your best memories will be made.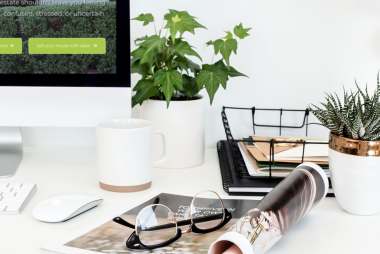 SELL YOUR AUSTIN HOME WITH EASE
We help you keep all the balls in the air, reduce the stress of the process, all while attracting potential buyers to your house so you can sell quickly for the best price.