Real Estate Reflections: Summer puts the brakes on Austin real estate market
Now that School's Out for Summer we can take a moment to breathe and reflect on the craziest Austin real estate market EVER. Yes, it's been a wild ride, but things are definitely starting to shift. Here's what we know halfway through the year.
LOOKING AT THE STRONGEST SEVEN MONTHS AUSTIN REAL ESTATE HAS EVER EXPERIENCED
Starting back in November 2020 all the way through May 2021 we had the hottest and most competitive real estate market I have ever been a part of in my 25+ years in real estate. I've worked through the ups and downs of past markets, but this was off the charts. It became normal to wait in line for an hour to see a home, for sellers to receive more than 20 offers on listings, for offers to be 20 - 30% over the list price for the home when they used to be 6 - 8% over, and for almost every term to be written in favor of the seller. Things I'd never recommend were suddenly commonplace: no option period at all, waiving finance contingencies, no-cost lease backs to the sellers, and on and on. The demand for homes seemed to be never ending. Sellers were ecstatic. Buyers were discouraged. Inexperienced Realtors were exhausted.
The statistics from the Austin Board of Realtors support what we felt on the ground. In November 2020, the median price in the city of Austin (not metro) was $485,000. By the end of May 2021 the median price in the city jumped to $643,500. That's a 32.68% increase in median price in just 7 months. Year over year listings are down 62% in the city of Austin yet sales/closings are up 55%. Real estate is driven by supply and demand, and this year demand is far outpacing supply.
Such a rapid rise in home prices is not without consequences. Austin's affordability challenges have been exacerbated as many local buyers were quickly priced out of the market by cash offers from out-of-state buyers with money to spare. People wanted to sell but were finding that they'd have no where they could afford to move to…
If you're wondering why the market skyrocketed, check out the detailed analysis we did in March.
BUT THINGS ARE BEGINNING TO SLOW A BIT…
As the school year wound down at the end of May, we started to experience a notable change in market conditions. No, prices aren't going down (more on that in a bit), but we are seeing fewer lines to see homes, homes are getting fewer showings, and there are way fewer offers coming in. Offers are now around 10-20% over ask price instead of 30% over, and the terms aren't quite as seller focused as they have been the last six months. Indeed, for the first time this year one of our listings went under contract with an option period... We've even seen other agents reduce the price on their listings, which is something we haven't seen all year.
By my analysis, month over month from May 2021 to June 2021, Austin home sales in the city are down 12%, and listings are up 34%. As more homes are listed for sale (the blue part of the chart below), the final sales price of homes are going down. Of course, some areas are in more demand than others so there will be fluctuation by neighborhood.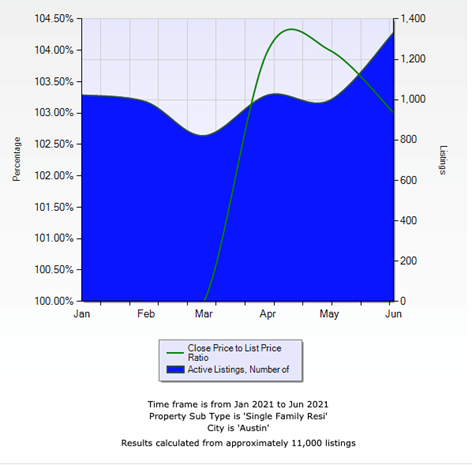 This is not unique to Austin. As we mastermind with our Compass colleagues across the country, it seems we are all seeing similar shifts in the market from coast to coast. The pace is slowing down as fewer buyers start their home search.
WHAT'S CAUSING THE AUSTIN REAL ESTATE MARKET TO SLOW?
There are several things contributing to this shift in the market:
1. Summer break. As travel restrictions ease, people are focused on taking a much-needed vacation.

2. The exodus from California and New York is slowing. We saw a huge surge in migration from California and New York as folks sought more affordable areas to live with less density. As those states open back up and people return to a more traditional work environment, the migration has slowed.
3. Our rising home prices mean that not everyone can afford to buy a home in Austin anymore. For the last several years as folks looked across the country and thought about where they wanted to live, Austin was a stand-out choice. We were affordable and cool. Indeed, Austin was less expensive than Denver and just a little more expensive than Nashville. It was a logical choice.
That has changed. Austin is now more expensive than Denver, and it's a little tougher to choose where you want to live. For reference, as of June 2021 RedFin lists the median home price in the city of Denver at $550,000 and the median price in Austin at $586,000. Likewise, Zillow lists the median home price in the city of Denver at $529,269 and Austin at $540,086. This could be temporary or more permanent; only time will tell.
All that to say, I think that the summer months will be a little slower as some degree of seasonality returns to Austin's housing market.
ARE AUSTIN HOME PRICES GOING TO COME DOWN?
It's unlikely. In the last 40 years Austin home prices have only come down two times:
Once in the 1980s during the savings and loan crisis, home prices dropped around 3%, and

During the great recession of 2008 - 2011, Austin home prices declined about 2%.
In both cases the price reductions were short lived.
It takes a great deal of time (and pain) for sellers to be willing to lose money on their home or let the bank foreclose. The closest we got to that was after the dot com bubble burst in 2001. During those years many homeowners decided to lease their way out of the problem, resulting in rental wars that ended up with sellers subsidizing rent for tenants. Notably, at that time the economy was struggling as we lost jobs; Austin does not have that situation today. The Austin economy is arguably the strongest it's ever been, and there's no sign of that shifting. Plus, we've seen such high appreciation in recent years, that even a 2-3% decrease is going to put most long-term homeowners in a healthy position.
While I don't see home values going down, I also don't expect them to go up as fast as they have been. Our appreciation rate is starting to slow slightly, the market is adjusting, and I dare say it's starting to stabilize. Given the run up we had on home prices, I think that's a good thing overall.
WHAT'S IT GOING TO TAKE TO HAVE A "NORMAL" MARKET AGAIN?
Normal is a moving target… Housing inventory will play a big role in how things develop going forward. In a balanced real estate market we should have about six months of housing inventory or around 3,500 – 4,000 homes for sale. Austin real estate hasn't been balanced in a very long time. In fact, we already a home shortage as Austin hovered around 3 months of inventory for the last several years. This year our housing shortage is the worst I've ever sent it. Consider:
During 2021, the city of Austin has only had 400 - 600 homes for sale at any given time or around .4 to .5 months of inventory.

To get back to our 2012 to 2019 version of a 'hot' market we need to have 2,000 – 3,000 homes on the market, along with fewer folks competing for homes.

In order to shift to a buyers' market, we need 4,000 – 5,000 homes on the market. That's roughly 10x what we have now. It will take a commitment from the City Council, loosening of the development and permitting process, and years to get there.

WHAT'S ALL THIS MEAN FOR YOU?
If you are a buyer:
While prices have gone up quite a bit, now is the best time we've seen all year to enter the real estate market and make a home purchase. There's less competition, prices aren't going as high over list, and there are finally more homes coming on the market so you have more choices. Let's get your home search back on track.
I feel pretty comfortable that we have many good years ahead of us as long as the Federal Reserve doesn't increase interest rates at a fast pace.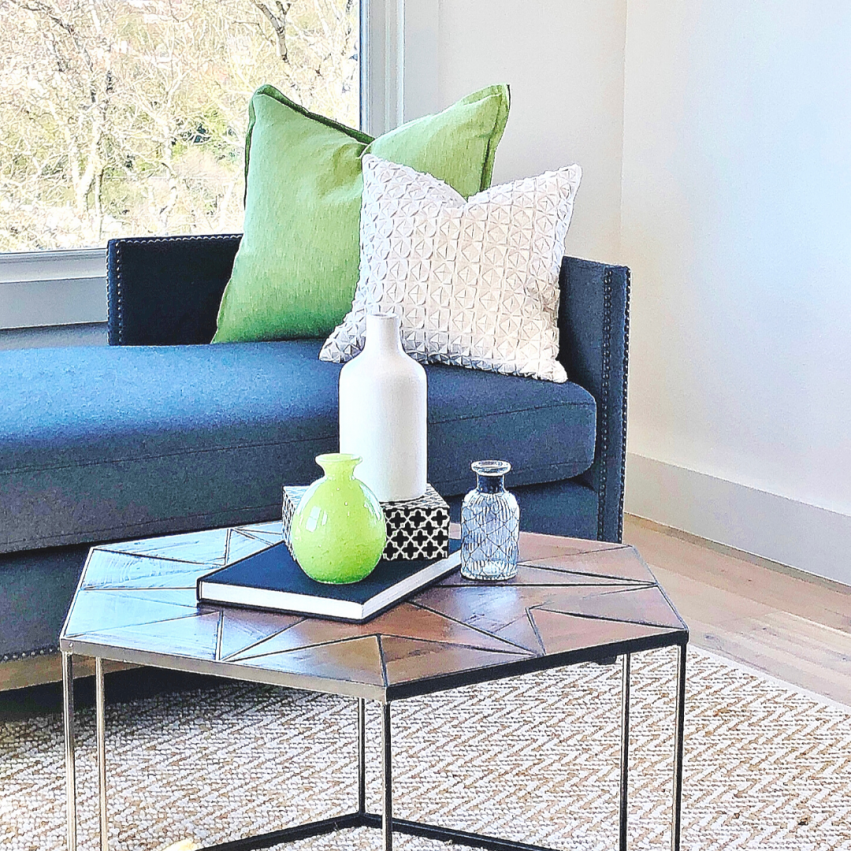 If you are a seller:
We almost always encourage sellers to hold their real estate investments as long as they can. That said, if you were considering making a move in the next year or so, this is a good time to do it while prices are peaking. While it's not the frenzy it was a month or two ago, homes are still selling quickly. Just be prepared to sell at or closer to your list price.
Also, make sure you maximize the opportunity that's before you. We have seen some social media posts where other Realtors are suggesting that sellers don't have to fix up their home to sell it. While that is technically true, you'll make far more money if you invest a little in making sure your home is move-in ready and stage it so that it shows well in the listing photos. Buyers are willing to pay a premium for homes that are updated where they can move right in and get to work.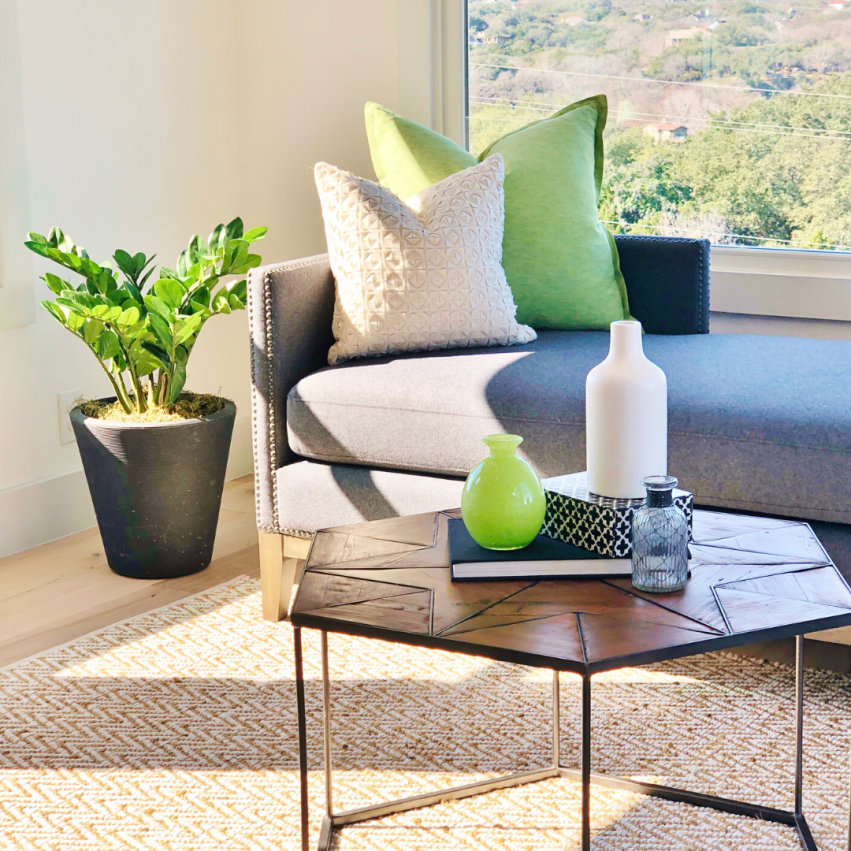 If you need money to get your home ready to go on the market, our Compass Concierge program is a great solution. We can help you get the money you need for the fix up, and the cost comes out of your proceeds at closing; no fees or interest.
LET'S TALK REAL ESTATE

We're always here to geek out over the numbers and talk you (or your friends) through your options. In the meantime, get out there and enjoy your summer!
Stay on top of the Austin real estate market.
Sign up for our email updates.
I agree to be contacted by Homesville Realty Group | Compass via call, email, and text. To opt-out, you can reply 'STOP' at any time or click the unsubscribe link in the emails. Message and data rates may apply.
We respect your inbox. We only send interesting and relevant emails.
Woo hoo! We've added you to the list.
Thanks for subscribing to our blog updates. Look for market updates, community features, hot properties, and design trends in your mailbox soon. Until then, join our journey on Instagram. We always want to add value, so you can unsubscribe at any time.
Get the behind-the-scenes scoop on Instagram

Wherever life takes you, we can help you get there.
See our real world results
Can you imagine loving your real estate experience? It's possible! Just look at our reviews on Yelp and Zillow.
Take the next step
Are you ready to find a home you love? We're here to guide you through the process. Contact us to schedule a consult.