Real Estate Reflections: Elon Musk was right
I've worked through (and survived) a lot of ups and downs in the Austin real estate market, but no one expected how COVID would disrupt decades worth of seasonal real estate patterns. The good news is that after a year and a half of craziness, the late summer and fall 2021 started to show signs of stabilization. We even had a brief, seasonal slow down that we would typically see this time of year. With Halloween behind us we are beginning to feel the pace of the Austin real estate market pick back up, as it normally would during a typical year. The bounce back did, however, start about a month earlier than normal so we aren't completely stabilized either.
The questions I've been getting from folks these days is what will the market do in the new year? Should we expect more crazy times? Is stabilization here to stay? Do I sell? Do I buy?
Whether 2022 ends up looking like 2021 or more like the "before times" depends on the factors that got us here -- the pandemic, interest rates, inflation, and job growth. Personally, I think we are in for more of the same. Here's some food for thought…
NO OFFENSE TO GOLDMAN SACHS, BUT...
Goldman Sachs projects that national home prices -- already at record highs -- will grow another 16% by the end of 2022. Despite national price increases of 20% over the past year, the analysts at Goldman Sachs suggest that homes remain "relatively affordable" thanks to historically low mortgage rates. But continued strong demand among buyers and ongoing low inventory will keep pushing prices even higher, according to the report. Zillow is even more bullish than Goldman Sachs; they have a 21.5 % appreciation forecast for the Austin area.
No offense to Goldman Sachs or Zillow, but I don't think they have this right – at least not where it concerns Austin. I expect rates to tighten in a response to inflationary concerns and for the country to have a cumulative 10% appreciation increase. Here locally, I think Austin will see 10-15% in appreciation. That's still high, but not the crazy increases we saw during the height of the pandemic.
Why am I predicting lower numbers than Goldman Sachs? Inflation versus demand. While I think we will have continued strong demand for housing because job growth is driving more people to move here, I do think that will be offset to some extent by inflation. I believe it will play out by having an early and very competitive spring market starting in January 2022 followed by a mostly flat summer. As prices and interest rates go up, fewer people can afford to live in our city. Do you disagree?
This chart shows Austin's market cycle going all the way back to 2008. The green line shows the median price for the Austin metro area, whereas the blue, filled-in area shows the number of active listings. You can see how after each January there are fewer homes and a price spike. It's my opinion that the huge spread in January 2021 will continue into 2022.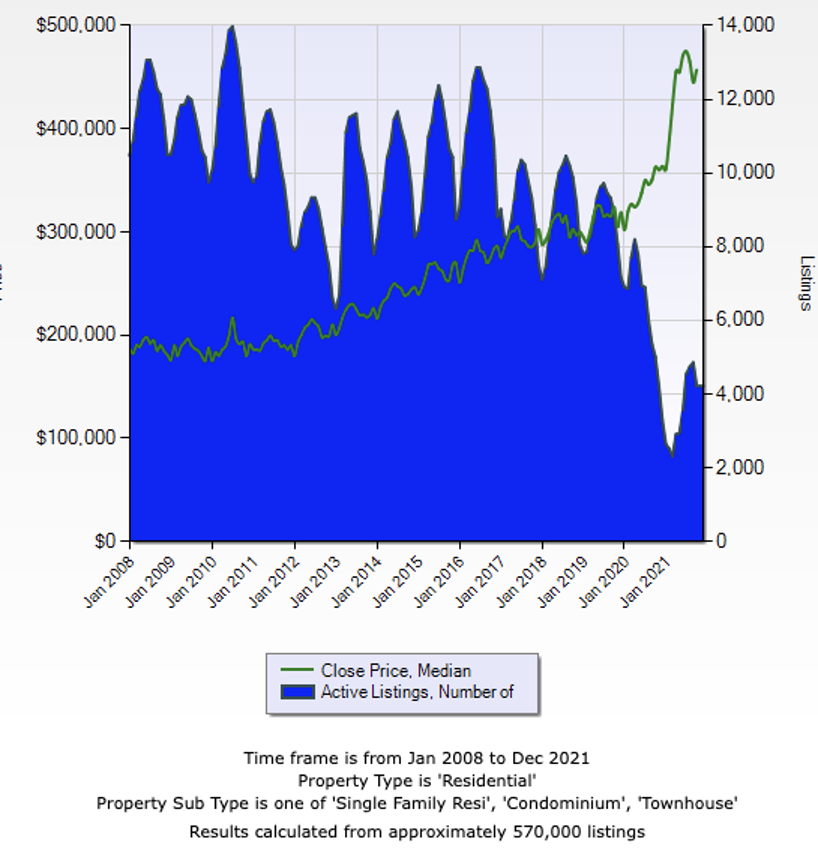 ELON MUSK FORECASTS AUSTIN'S FUTURE – AND IS RIGHT
Last year Elon Musk moved to Austin and announced that Austin was the biggest boomtown in 50 years. I didn't expect Elon's comments to impact real estate in any meaningful way, but it really did sway people's decision-making regarding investments.
And now this year Elon has announced that he's moving Tesla headquarters to Austin. With that comes a promised 10,000 new jobs by 2022. Elon is doing his part to keep Austin business weird.
As interesting as Elon's antics may be, such significant job creation has a real impact on the real estate market because this is where demand for housing is generated. Folks with jobs need to live somewhere. If you want to know how strong a real estate market is in or outside of Austin, just look at the quality of jobs that are leaving or on the way.
So far 2021 appears to be a banner year for new jobs. Unless something changes, 2022 should match or exceed the number of jobs created here in Austin. If you look at the Texas Workforce Commission stats, Austin has a pretty steady upward trend in job creation.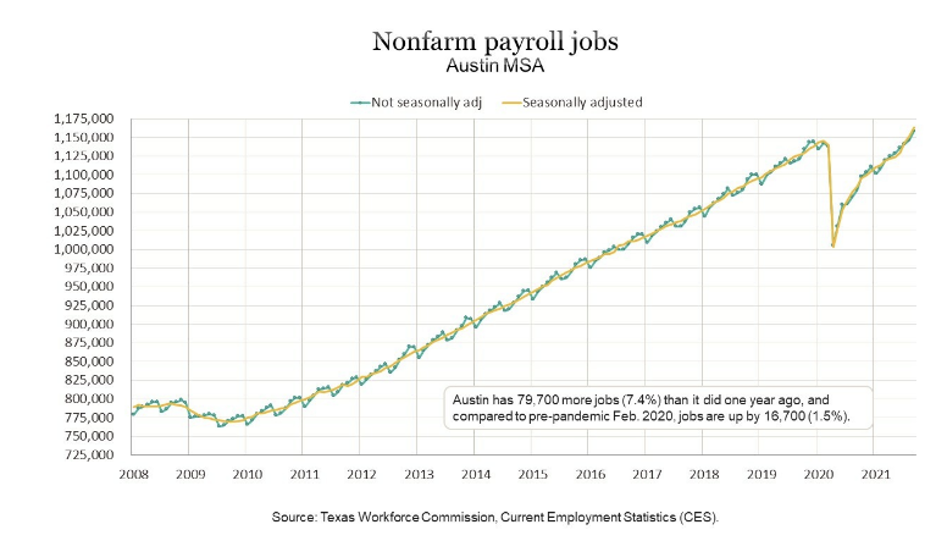 For the sake of future casting, let's pretend we just have the same number of jobs coming to Austin in 2022 as we did last year in 2021. Depending on the source, anywhere between 169-184 people a day move to Austin. Of those, around 40% are married, and hopefully the married folks bunk up together. Excluding students, another 5% of Austin's population has roommates.
So of those 169-184 new residents moving to Austin, around 55% will need their own place to buy or rent. That's almost 100 new people a day that need to find a place to live in Austin. And that means we will continue to see prices go up as inventory goes down.
WHERE WILL THE INCOMING AUSTIN RESIDENTS GO?
Of those 100 new people that need to find a place to live, about 48% of them will rent. The real estate MLS shows that 10,868 properties signed new leases over the last 12 months. That excludes apartments, do-it-yourself landlords, and other off-MLS sources. It's a good time to be a landlord, as rents are up 24% from last year. Many potential home buyers got frustrated with Austin's low housing inventory, and ended up renting instead. I expect some of those folks will try again to make a purchase next year. With more people looking for a rental, it's going to get competitive.
Right now, about 52% of folks living in Austin own a home. Unfortunately, I expect this number will go down over time as prices go up and more people can't afford to own a home in the Austin city limits. People are, however, finding more affordable housing on the outskirts of town. As of this writing, over the last 12 months, the combined median price for homes, townhomes, and condos are up 27% from 360k to 457k. Again, the addition of more people looking to buy homes is going to keep Austin's real estate market competitive.
Check out this data I pulled from the MLS. Blue is the median price, and green is the number of active listings. There's been a pretty big spread between the two since COVID, and it is my expectation with Austin's job growth predictions that we will continue to see inventory go down and prices go up in a dramatic way. It may not be pandemic levels, but I predict it will still be strong.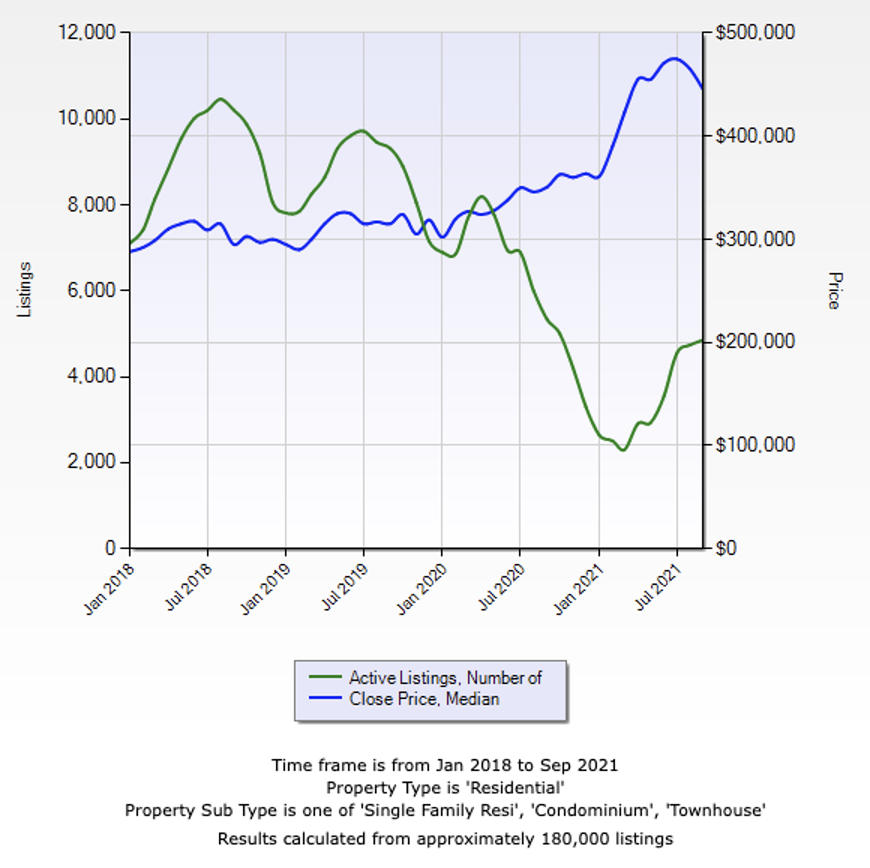 WHAT'S ALL THIS MEAN TO YOU?
The short version is that 2022 will likely be a continuation of what we saw in 2021 with some brief periods of seasonal normalcy. Austin will continue to be very competitive both for home ownership and for rentals. Folks that can't afford ownership within the city will be forced to the outlying cities where it's more affordable.
If you are a buyer:
The buyer window is closing. Buy now if you can. Your future self will be grateful. Remember, real estate is always expensive today, but it's really cheap when you look back over time. Yes, you can wait for another "buyer's market" which we will have again some day, but prices are going to be much higher then than they are now.
Also, don't let rising interest rates sway you. Yes, rates are going to go up in small, incremental amounts. While higher rates may mean you are competing with fewer buyers, prices are also going to go up. Most of the time people wish they'd bought sooner when homes cost less.
As you decide where or what to buy, focus on location over looks. As much as you may be attracted to beautiful, updated homes, remember that it's the location that will cause your home price to appreciate over time. Aesthetics like countertops, cool tile, and neat light fixtures just depreciate. Bottom line: Invest in a great location in Austin or otherwise so that your investment yields a high return when it's time to sell.
If you are a seller:
Timing counts. Of course, we almost always want you to hang on to your property as long as possible, but if you must sell, let's get it right. You're only going to get one shot at this.
To maximize your price, give buyers what they are looking for. Today's buyers want homes that are move-in ready that will make them house proud. People are moving to Austin for jobs, so they want to move in and get right to work; most buyers don't want a project. That also means that those buyers are willing to pay a premium for an updated home.
Not every improvement offers a good return on investment, so talk to us before you start making big changes to your home. We want every dollar you spend to get earn you 2-3 or even 10 times what you put into your house. If access to money for fix up is a problem, our Compass Concierge can front you those dollars for staging, painting, and so on, and you pay it back out of your proceeds at closing with no interest.
A UNIQUE OFF-MARKET OPPORTUNITY
We like to source off-market opportunities for you, and here's one that is sure to pay big dividends over the next 15-20 years. We lost our 17 year old cats, Maverick and Trinity, in August and September of this year; Marquette dealt with her grief by fostering kittens for Austin Pets Alive the past few months. It's gotten a little out of hand, and right now we have two litters in our house and a total of 44 paws! At some point in December these cats will need to find a different home that is NOT ours. If you want to have a shot at these off-market fuzz balls, let us know.
Let's talk real estate

Whatever your goals may be, it definitely helps to have a seasoned expert who has successfully navigated fluctuations in the market for the past three decades. Don't hesitate to reach out with any real estate questions. I am always happy (and grateful!) to help you and anyone you send our way!
Cheers!
Paul

Wherever life takes you, we can help you get there.
See our real world results
Can you imagine loving your real estate experience? It's possible! Just look at our reviews on Yelp and Zillow.
Take the next step
Are you ready to find a home you love? We're here to guide you through the process. Contact us to schedule a consult.
Stay on top of the Austin real estate market.
Sign up for our email updates.
I agree to be contacted by Homesville Realty Group | Compass via call, email, and text. To opt-out, you can reply 'STOP' at any time or click the unsubscribe link in the emails. Message and data rates may apply.
We respect your inbox. We only send interesting and relevant emails.
Woo hoo! We've added you to the list.
Thanks for subscribing to our blog updates. Look for market updates, community features, hot properties, and design trends in your mailbox soon. Until then, join our journey on Instagram. We always want to add value, so you can unsubscribe at any time.
Get the behind-the-scenes scoop on Instagram