Real estate reflections: Trying to see through the coronavirus fog
As everyone thinks about their health and safety during these crazy times, I debated whether to write a monthly real estate reflection. After all, I can't speak to any of the medical issues presented by the coronavirus. Yet, I felt unanchored doing nothing.
So I dug into the thing that I do know – real estate.
I've worked through two other recessions, and while this is unchartered territory there are some things we can learn from history. If you're interested, here's what I'm seeing in the Austin real estate market.
WHAT IS THE IMPACT OF THE CORONAVIRUS ON THE HOUSING MARKET?
After 25+ years in the Austin real estate, I've seen (and survived) the best and worst of our market, including the 2008 financial crisis. After a long run of economic growth, we are entering a recession for the first time in years. There are, however, some significant differences between now and 2008.
First off, the conditions leading to the current state of our market are very different than in 2008. The growth in home prices seen during our recent economic expansion weren't fueled by increased access to mortgage credit like they were in 2008. Instead, our recent expansion was more about supply and demand: many Americans wanted to become homeowners, but the supply of homes available for sale was very low, pushing prices upward.
While this made the prospect of buying a home unaffordable for millions of Americans, it also means homeowners have seen their home equity grow substantially in recent years. That decreases the likelihood that those homeowners will be upside down on their loan if home prices were to dip during a recession.
Second, while home prices did decline nationally during the 2008 Great Recession, they didn't fare nearly as bad as the stock market. Here in Austin we saw prices decline around 3%. Elsewhere prices dropped between 4 – 10%.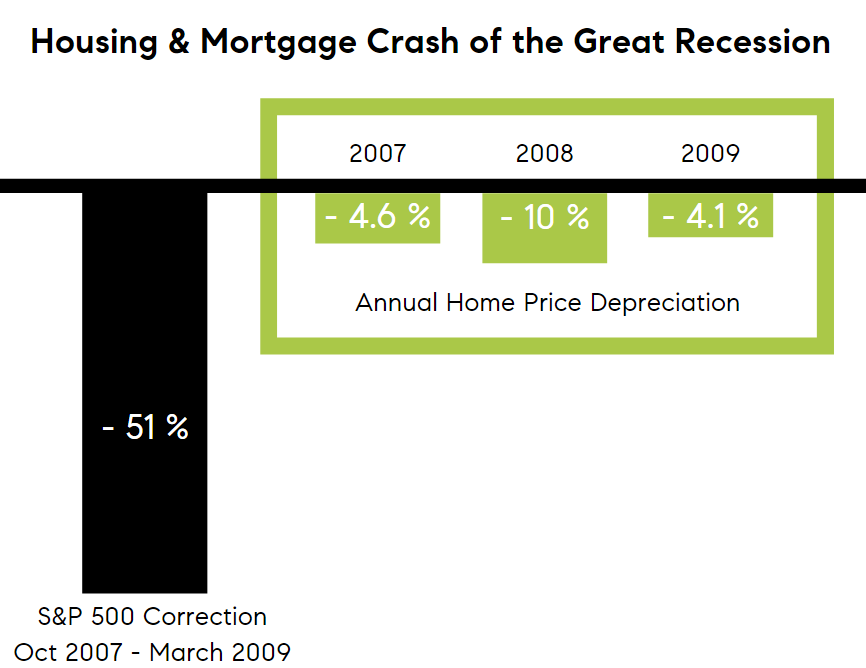 Our current situation with the coronavirus feels more like how our economy fared after the terrorist attacks of September 11th. There's shock and confusion and a lot of emotion as people aren't sure what's going to happen next. David Rosenberg, chief economist at Gluskin Sheff & Associates International, drew this parallel: "People avoided crowds then as they believed another terrorist attack was coming and are acting the same today to avoid getting sick. The same parts of the economy are under pressure – airlines, leisure, hospitality, restaurants, entertainment – consumer discretionary services in general." Of course, this time we have the added pressure on our health care system. During the aftermath of 9/11 stocks again got hit hard, while housing actually appreciated.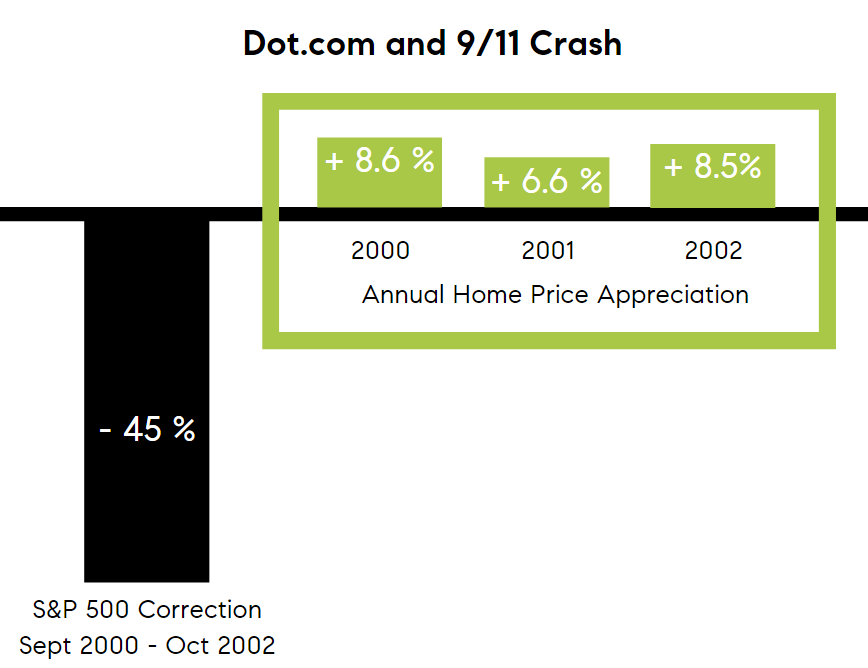 All that to say that those folks who've been waiting to buy when the next recession hits may be disappointed. Based on what's happened in past recessions, a report by First American Financial Services argues that the recession is unlikely to prompt a major downturn in housing.
HOW IS THE AUSTIN REAL ESTATE MARKET DOING DURING THE CORONAVIRUS PANDEMIC?
The Austin Board of Realtors recently released the February 2020 market stats. Those stats show that median prices are up, closed sales are up, days on market are down, and pending sales are up. But… That's not particularly relevant because business as we know it changed dramatically in March. We still have people reaching out to us about listing their home, but their time horizon is pushing out farther to May and June. We've also had some buyers cancel their buying trips or decide to delay their purchases, while others are still moving forward.
We are currently living in a state of flux. That said, things will eventually begin to stabilize. Through many discussions with colleagues, lenders, and financial experts, both local and national, everyone seems to agree that once there is confidence in our nation's health, the Austin market will take off as pent up buyer demand is unleashed. For now we are expected to see a decline in Quarter Two, with some normalcy or even acceleration occurring in the last two quarters of the year and further gains in the spring of 2021. Here's the Goldman Sachs predictions, although I expect real estate will recover faster than stocks as folks move to take advantage of interest rates and other potential stimuli.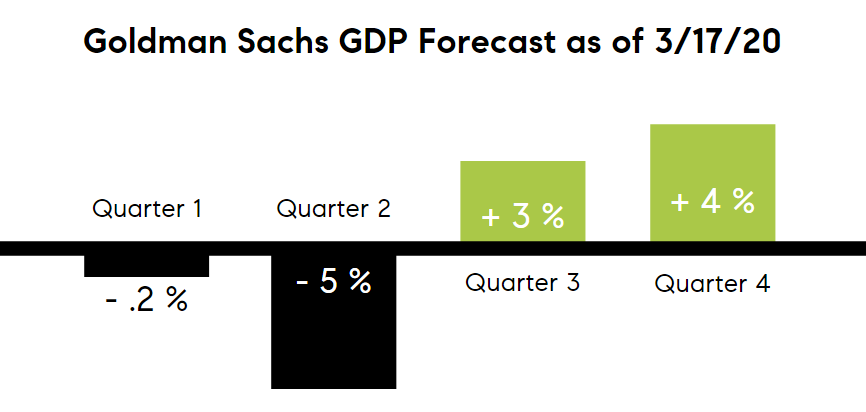 Also, we don't expect a lot of foreclosures. During three out of five recessions, housing has actually gone up in value. We expect the same this time around, especially with the Fed getting ahead of the game and declaring that there will be no foreclosures or evictions for about 90% of loans (anything insured by Fannie Mae or Freddy Mac) for the next 60 days and longer if needed.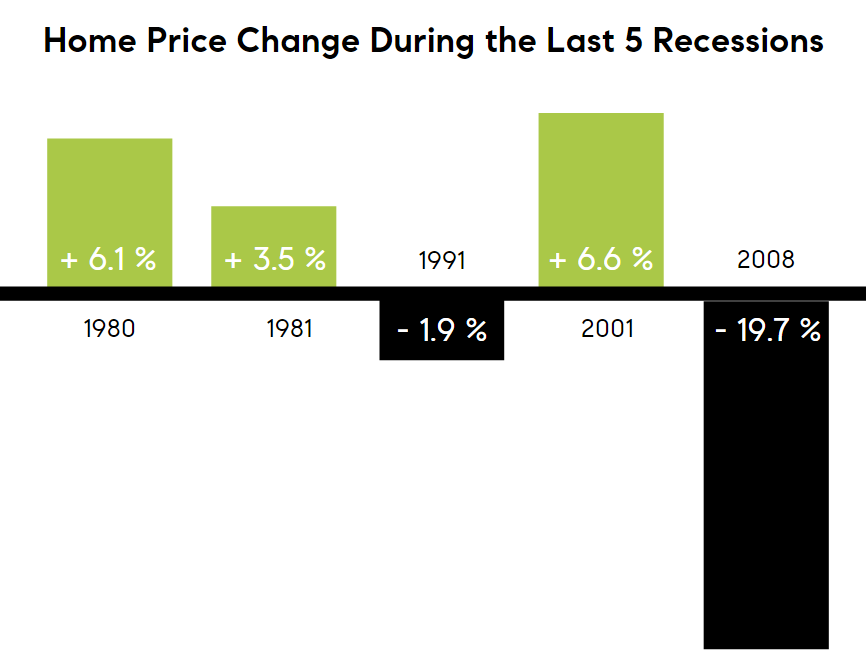 Of course, no one has all the answers. As you navigate through this, I'm happy to talk you through the pros and cons as you make the decision that is best for you.
WHAT'S GOING ON WITH INTEREST RATES
I've had a lot of folks ask about the Fed's recent rate cuts. Things are changing every day, so I can't predict with any certainty what's coming next (hello ups and downs!), but the Fed's most recent rate cut won't cause mortgage rates to fall notably. Because mortgages are long-term loans, their interest rates tend to track long-term bond yields rather than short-term interest rates such as the federal funds rate.
The yields on the 10-year Treasury note (0.734%) and the 30-year Treasury note (1.321%) both fell in reaction to the stock market declines as investors fled for these government bonds, which are seen as safe havens.
For comparison, zero percent rates were held between December 2008 and December 2015 to help the U.S. economy weather the Great Recession yet the median mortgage rate was still 4.2% during that time period.
Plus, most banks are at capacity due to huge demand for refinancing (and a shortage of workers to service refinancing applications). Many banks aren't looking to lower their rates and are unlikely to follow the Treasury yield one for one. We've actually seen rates go back up to help control deal flow.
This may shift as banks catch up on refinancing, especially if there are further rate cuts -- just don't expect the mortgage rates to directly follow the 10-year Treasury yield. To be prepared I recommend working with a lender to get your loan package ready so that you can move fast if rates do drop again. After all, lower interest rates mean your buying power goes further.


IS THIS THE RIGHT TIME TO BUY, SELL, OR INVEST IN REAL ESTATE?
Austin real estate prices have seen such rapid rates of appreciation that many folks have been sitting on the sidelines waiting for the right time to jump in and invest. The question is whether that time is now?
We've typically recommended getting into the real estate market when prices are low. Oftentimes, that's when there's more uncertainty in the world and it takes a certain fortitude to move forward. Yet, the coronavirus pandemic feels different than the usual downturn. We will see unprecedented numbers of people lose their jobs or even die. It is an unusual and unsettling time.
Some folks won't like the idea of taking advantage of the uncertainty, but yes, in times like this we will see unexpected opportunities. We are already seeing some impact. For example:
We've had many of our out-of-state buyers cancel their buying trips to Austin. That means there will be less competition from out-of-state buyers.

The number of available multi-unit properties that pay for themselves increased significantly last week.

If mortgage rates adjust, buyers will have increased buying power as their money goes further.

Some sellers may offer more reasonable prices and be more willing to negotiate. You may be able to purchase homes at prices we haven't seen in some time. Remember though that real estate prices don't fluctuate as dramatically as the recent stock market has (thank goodness!) so don't expect gigantic decreases.



For right now, here's our basic counsel. Just remember that as the situation changes our advice may also change.
IF YOU ARE THINKING ABOUT BUYING: How do you decide whether to buy a house in these uncertain times? I think it boils down to whether you are you comfortable in your financial position. Do you have job security? Cash on hand? If so, taking advantage of low interest rates (cheap loans) can have a long-term upside. You may also see prices lower between now and July and less competition than we've seen in recent times. However, if you are doubtful or uncertain about your job and cash flow, then my advice is to wait.
IF YOU ARE THINKING ABOUT SELLING: Now more than ever marketing and negotiation strategies count. You should be asking your agent for pre-inspections, property videos (not just animated photos), and 3D tours. A robust digital marketing plan is vital since digital is where everyone is spending their time right now. If you can hold off, you might consider sitting tight until things stabilize which is most likely to be in Quarter Three. Of course, the location of your home and your motivation to sell will influence our advice, so let's talk.
IF YOU ARE THINKING ABOUT INVESTING: Certainly there will be some investment opportunities that present themselves. Serious and serial investors will be watching the market closely looking to gobble up the best opportunities. Be prepared to invest cash and move quickly if you want to win. I'll be sending out my Multi-Unit Monday emails to let you know of deals that pay for themselves. Just reach out if you'd like to be added to the list.
Please be assured that if you decide to get into the market at this time, we've made some adjustments to serve you while also reducing your risk.
HOW WE ARE ADAPTING GIVEN THE CORONAVIRUS CONCERNS
We are in daily contact with some of the best Realtors across the nation as we mastermind how to deal with this unprecedented situation. Many of our colleagues across the U.S. are no longer able to show homes or have open houses. That may become the case for us in Austin soon enough.
For now, however, we're still serving people in Austin and helping them move forward with their real estate goals. But it's not business as usual. We've made some significant adjustments to limit the health risk for our clients. Now more than ever our focus is to take care of YOU. Here's what you can expect from us:
We are still available for client consultations.
We have high quality video conferencing options (at no cost to you) so we can still visit face to face to answer any questions you have about what's going on in the Austin market.

If video conferencing isn't your thing, there's always the phone. You may hear periphery noise from our kids but we are still able to chat on the phone or text. Old school style!

Frankly, we'd love to hear from you whether you want to talk real estate or just talk. We feel better when we are connected with others, so please reach out.



We can still show homes in person, for now. That said, we are making adjustments to how we do it.
We are only showing one set of buyers at a time, no groups.

We will be keeping our distance. Sorry, but you won't get a hug or a handshake at this time. We are also going to caravan to properties rather than share a ride.

We are wearing gloves so that we can open the lockbox and exterior and interior doors for you so that you don't have to touch anything. The best thing for you to do is keep your hands in your pockets the whole time so you don't accidentally touch anything.

We aren't crowding into small spaces like bathrooms. Smaller areas can be viewed one person at a time.

After the showing we dispose of our gloves and wipe down our car handle and interior car surfaces with Clorox wipes.



We can also show you homes via video tour. For years now we've been showing homes to out-of-state or foreign buyers through virtual showings. We are well equipped to do the same thing now for anyone.
With a virtual tour, we go to the property and bring you online via Facetime or other video conferencing so that you see the property without ever having to leave the safety of your current home.

We open closets, zoom in on the things you want to see up close, and answer your questions in real time, just as if you were there in person.

Some agents are still scheduling in-person open houses. We think you should stay home and let us do the previewing for you. If it is warranted we can arrange an individual showing for you.



Our experience with video marketing means your home will continue to be seen – even while buyers are limiting their outings. There's still a demand for homes, and we are seeing new properties go on the market every day. Fortunately, the way we market homes puts sellers in an excellent position to have their home seen by potential buyers, even when people are social distancing.
We will continue to make professional videos of all of our listing so that potential buyers can see them remotely. (Many Realtors will be scrambling to figure this out, but it's something we've been doing for years. We have a team in place ready to execute an attention-getting video for your home.)

We will be implementing three dimensional scans so folks can still explore all of the details of a home. If you've never seen these, they basically create a digital twin of an existing space so that you can view a room from multiple angles, take measurements, do a 3D walk-through, and more.

We will continue to invest money to digitally advertise your home across the key platforms so that it is seen by potential buyers.



We will conduct virtual open houses. While we don't think it's responsible to bring a large number of people together to view a home at one time, we will provide opportunities for potential buyers to view homes digitally.
We will advertise virtual open houses that we will then broadcast from live on both Facebook and Instagram.

During the virtual open house we will conduct a video walk-through tour and answer viewer questions in real time.

Suggestions for keeping your home safe during showings. If you have your home on the market, we suggest implementing these protocols:
Place hand sanitizer by the door with sign that reads "To protect homeowners and all that enter here, please use the hand sanitizer and avoid touching personal items."

Leave interior doors, pantry doors, and closet doors open so potential buyers don't touch the handles.

Turn on all the lights and open the drapes. Not only will the light make your home more attractive, it reduces the chance people will touch the switches.

Put the toilet seat down and fold the ends of the toilet paper into a triangle so you can determine if someone used the bathroom while you were out. If so, give that room additional cleaning once you return.

Use disinfectant on the exterior doorknob, lockbox, key, handles, knobs, counters, light switches, and anything that appears moved when you return home.



ON A PERSONAL NOTE
There's so much information coming at us at high speed. And so much uncertainty. We are trying to keep one eye on the real estate market, while also tending to our family. We have moments of anger. Fear. Despair. Frustration. I'm sure many of you share our feelings.
But we also see this is a gift. When else would we get to spend such unscheduled time with our family? When else would we be able to really dig into parts of our business that tend to get overlooked when we are moving at break neck speed? I look at my kids' sweet faces each night, and I am reminded of how precious our time is.
While we can't fix the world, we are sending you a big virtual hug. We are thinking of you, especially our friends in the medical field, and sending you peace and love.
Stay healthy, stay safe, and find something to comfort you in these stressful times. And please, reach out with any questions or to just talk.