SOLD: Stylish bungalow in Austin's Ridgetop neighborhood
The tidy boxwoods perfectly lining the front of the house and the beautifully landscaped yard are your first hint that this home is a hidden treasure tucked in Austin's hip Ridgetop neighborhood. Nestled under the shade of a mature Sycamore tree, you can watch the world go by under the twinkle lights adorning the front porch.
A perfect place to call your own, this stylish house features a spacious and light-filled living room. With large windows on two walls and hardwood floors underfoot, the living room is comfortable and warm. The adjoining dining room expands your living space and features an expansive view to the scenic backyard. Whether you are cuddling on the couch or entertaining, this flexible floor plan is ideal.
The intimate farm-house style kitchen has white cabinets, butcher block counters, white subway tile backsplash, and on-trend grey wood floors. A red schoolhouse light fixture adds a pop of color. It's a fresh and functional space.
The home also includes two large bedrooms, each with its own closet. You'll love the windows and the abundant natural light in these rooms.
A retro-chic bathroom includes period details like shiplap walls, black and white tile floors, and a subway tile shower. The wall-mounted sink created additional space, and there's ample storage with the floor-to-ceiling open shelving.
Vintage lovers will delight in the nostalgic interior details throughout the home like the original hardwood floors, cased entryways, architectural details, and phone nook in the hall. It's soulful elements like these that give Central Austin homes their unique character.
Large sliding glass doors in the dining room seamlessly connect the main house to the beautiful backyard. The house and large outdoor patio easily function as one, creating a large space to gather with friends and family. The backyard is designed with a mixture of lawn, drought-tolerant succulents, and hardscaping. There's even an outdoor cold-water shower to rinse off after a day in the sun.
The backyard oasis is enclosed with a wooden privacy fence, and strategically placed potted bamboo enhances the secluded feeling. A separate storage shed provides additional storage. The yard is shaded by two large pecan trees, while a Japanese maple and crepe myrtle add seasonal color. It's modern, serene, and manicured.
In addition to the main house, the property also includes a separate studio with a full bathroom and laundry facilities. Built in 2007, the 416 square foot studio has an entire wall of oversized Pella sliding doors that bring in natural light and connect the space to the beautiful backyard. This flexible space is ideal for a home office, art studio, man cave, tenant, gym, or more.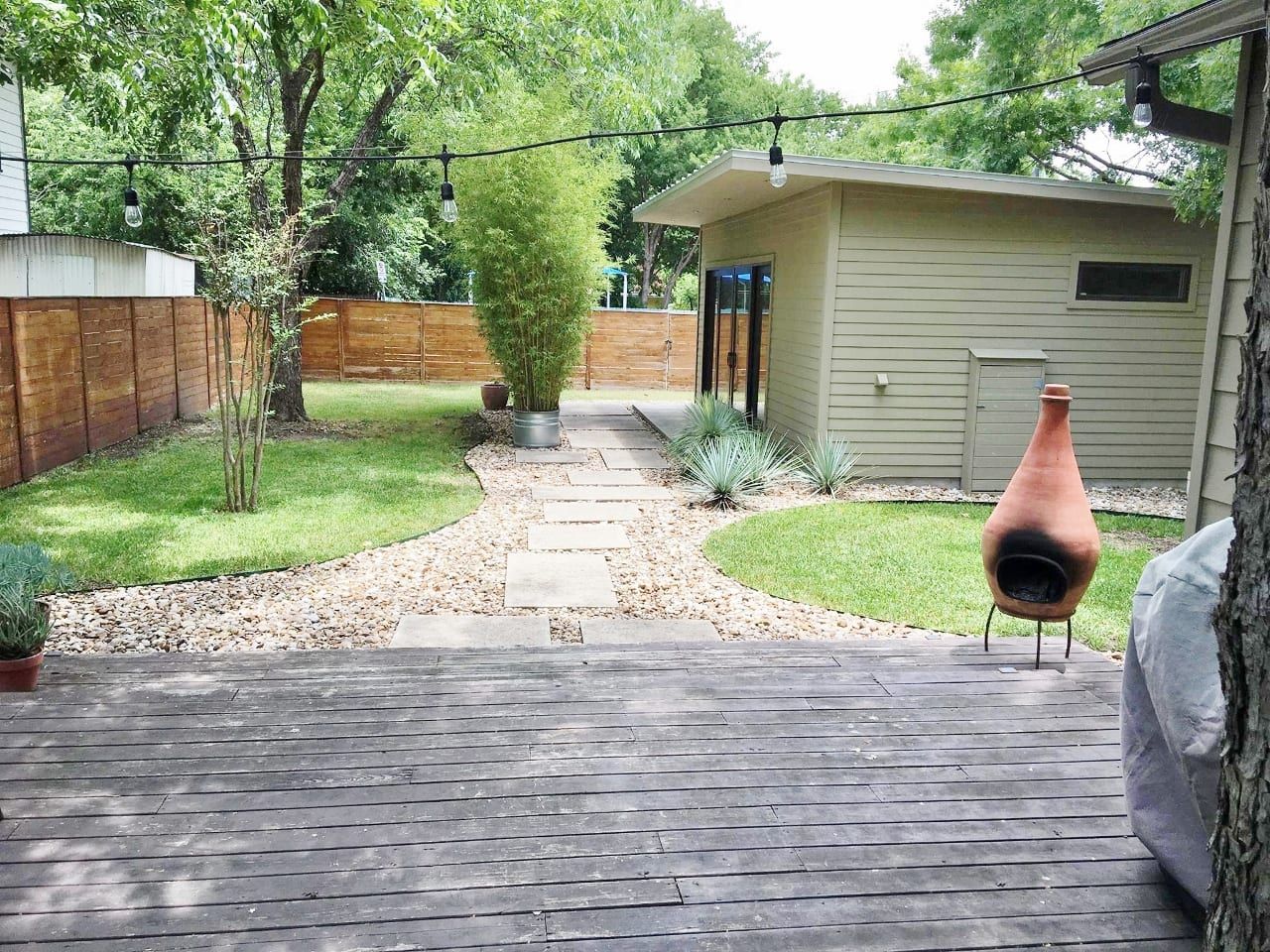 Located in the Ridgetop neighborhood, you'll love the convenience of this home's Central Austin location, as well as the close proximity to downtown Austin (10 minutes), the Domain (15 minutes), or the Arboretum (12 minutes). A private entrance and parking are available through the alley access in the back of the home.
When you're ready to venture out, you won't have to go far to find fun things to do. This home is a pleasant walk to all the hot spots along Airport Boulevard, including Kome, Tyson's Tacos, and Eastside Pies. Head to Drink Well for happy hour, Sala and Betty for dinner, then satisfy your sweet tooth at Casey's New Orleans Snow Cones. And if you need a coffee fix, Flight Path and Epoch are nearby. Restaurants like Loca D'Oro are also convenient in the nearby Mueller neighborhood.
Currently being prepared for sale, 906 East 53rd Street will be listed in March. In the meantime it's available for purchase at our pre-listing price of $475,000. Please reach out if you'd like to see this fantastic bungalow, and be sure to share it with someone you know that's been looking for a house they'll love.