How professional staging can positively impact the sale of your home
Many sellers are reluctant to bear the cost of having their home professionally staged, seeing it as little more than decorating. It's been our experience, however, that using an experienced stager can make a big impact in getting your home sold. Whether you are planning to live in your home during the sales process or have it vacant, staging can positively impact the sales process.
Just like you form a first impression when meeting someone for the first time, home buyers form a first impression of the homes they are evaluating for purchase. In today's tech age, that first impression is often made online through photos of the home. Indeed, the National Association of Realtors reports that 95% of buyers look at online photos before ever visiting a property. Staged homes photograph better, and better photographs mean you attract more potential buyers.
Staging an occupied home
If you plan on living in your home during the sales process, a stager can help you figure out how to optimize the use, look and feel of every room in your home so that it is the most appealing to potential buyers. For example, stagers can help you determine if any furniture should be stored or re-arranged to showcase your home at its best. Some stagers even offer hands-on services like helping you purge closets, declutter, and pack for the move.
And let's face it. Not everyone shares the same taste or style in decorating. You've likely walked into a friend or family member's home and thought some of their decorating choices were strange or even distasteful. A stager offers a neutral perspective on what adjustments you may want to make to your décor so that it has broader mass appeal. All of these adjustments can help a potential buyer envision what it is like to live in your home.
Staging a vacant home
Staging is also important if your home will be vacant while it is on the market. Empty rooms and drab walls are unlikely to catch the attention of a potential buyer who is flipping through hundreds of home photos online. Staging helps create an attention-getting photo that will encourage the buyer to pause and look more thoughtfully at the features of your home.
Plus, not everyone can imagine what an empty room would look like filled with furniture. Staging bridges the gap for many buyers by helping them envision how spaces can be used.
A real world example of staging
Consider, for example, this unique home with a view of Lake Travis. The photos on the left show the home vacant, and the photos on the right show the home once it was staged by Mombo Interiors. You be the judge. Which picture drew you in the most – staged or unstaged?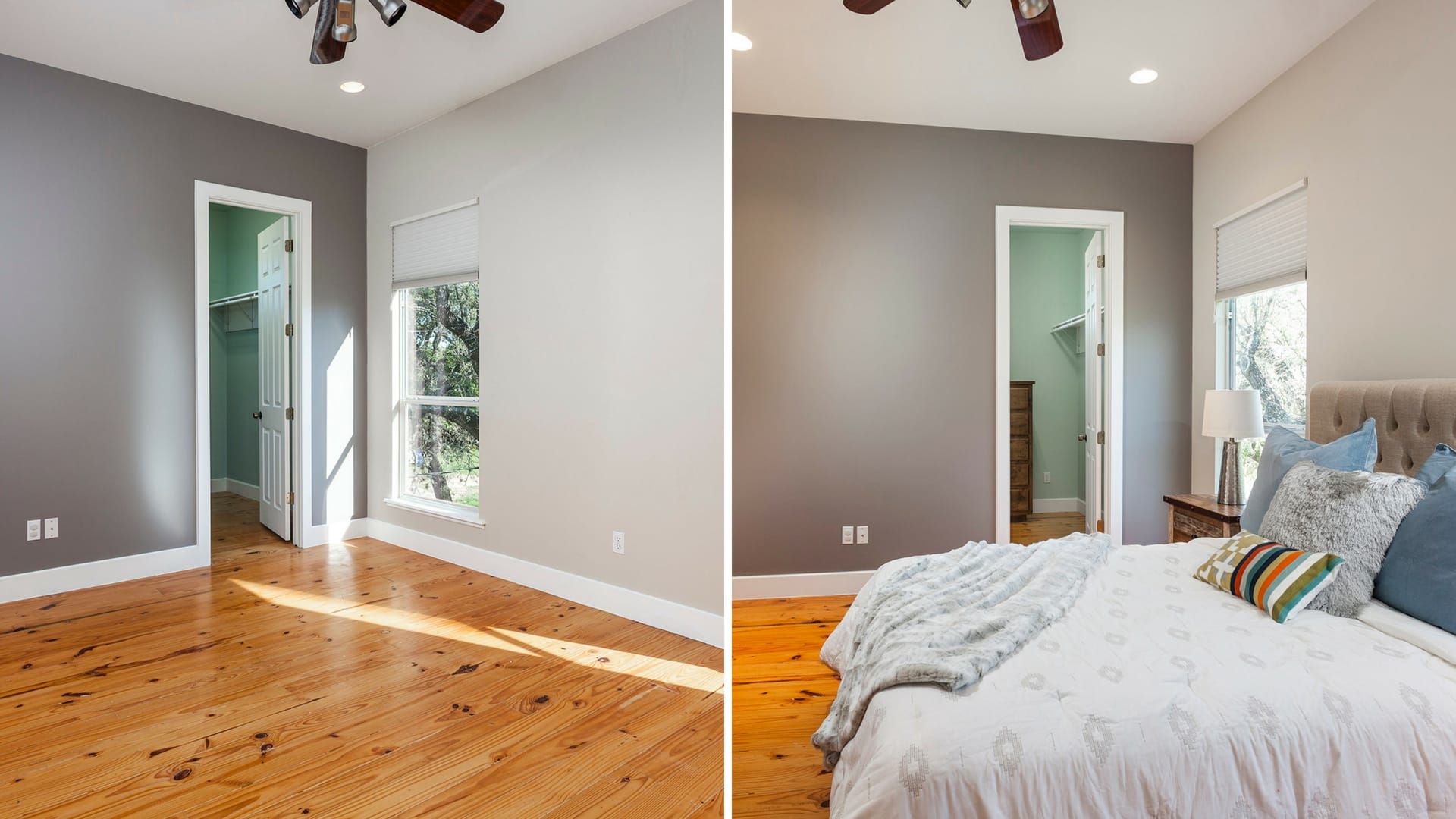 We believe in the impact of staging
We believe staging helps create a positive first impression to increase a buyer's emotional connection to a home. And because it is so valuable to have someone with "fresh eyes" provide guidance on making your home more attractive to buyers, we offer our clients a free two-hour consultation with a professional stager.
If you have questions about staging or the other tried-and-true methods we use to sell homes, please reach out. We are always happy to chat – no obligation, no BS.