Fun for the Family in Austin This December
Looking for fun Austin-y things to do with the whole family this holiday season?
There's no shortage of cool and fun things to do in Austin over the holidays. But with two kids under the age of 8, we're doing good just to tackle a few each year. Fortunately, over the years some favorites have emerged, and we've ended up with a manageable list of holiday traditions. If you're looking for something for the whole family to enjoy, these are our personal family favorites. Let us know what you think!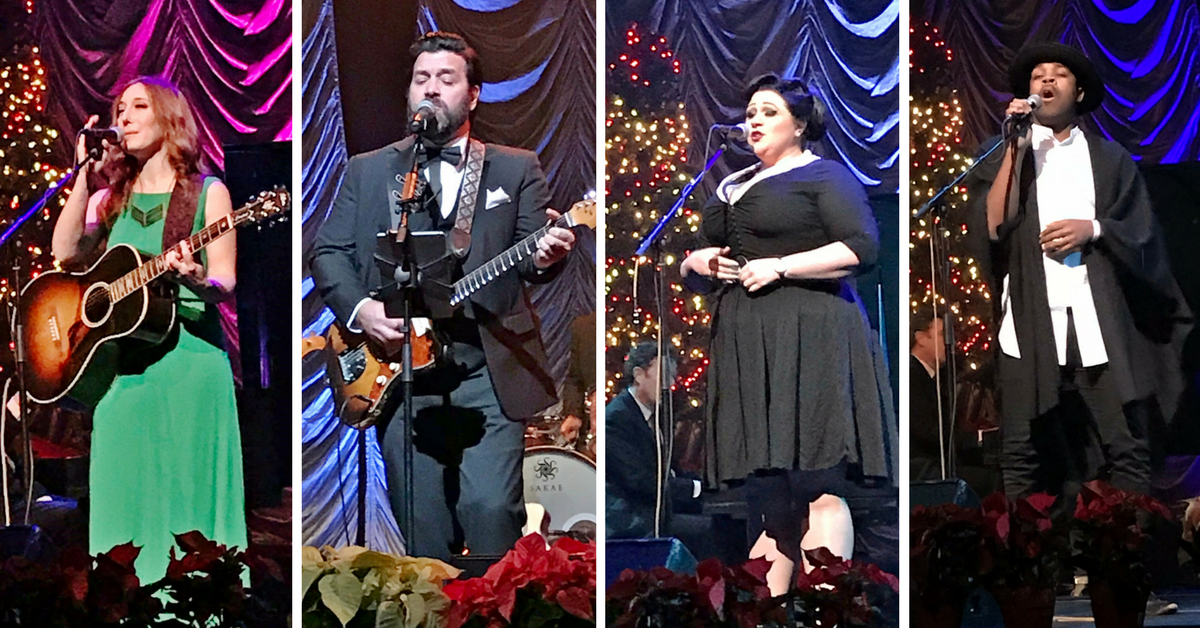 Okay, technically this one is just for the adults, but it's become such a part of our routine that we didn't want to leave it out.
I've been watching Bob Schneider since my college days when he front-lined the Ugly Americans and had a regular gig at Steamboat. Anyone else remember those days? Well, Bob's aged and so have I. I no longer like battling crowds of people and pushing to the front of the stage. Aimed at (and attended by) an older audience, Bob has a holiday concert at the ACL Moody Theater right after Thanksgiving -- with seats. He plays some of his popular songs, along with a medley of holiday favorites. And he usually brings some local artists along with him. Lex Land is a regular, and this year I was blown away by Mobley -- who wants to go with me to see him? He's also had Ephraim Owens, Matt the Electrician, Bonnie Bishop, and more folks I've can't remember. It's fun, it's festive, and it's how we've come to kick off our holiday season. Want to join us next year?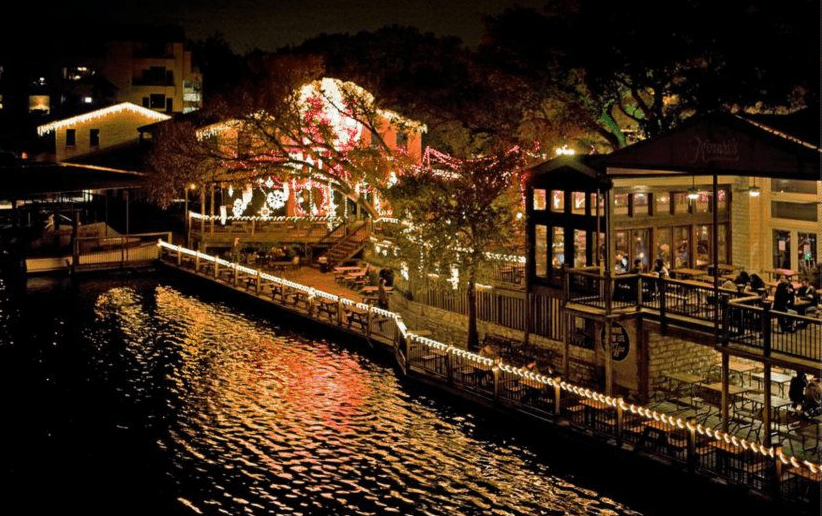 I blame it on the coffee milkshake, but I've always loved Mozart's. And when they light the place up for the holidays, it's magical. For the last several years we've enjoyed their light extravaganza while we sipped coffee and cocoa by the lake. In the past the lights have been timed with recorded music. This year I hear there will be live choirs rocking the deck throughout the evening.
I will say I was a little disappointed last year with what seemed to be a major shift to commercializing the event. There was cotton candy, an assortment of light up toys, and lots of other stuff to entice the kids. And it was super crowded... If that keeps up, this one may get nixed from our list.
The show runs nightly from 6 - 11 pm beginning Friday, November 17, 2017 through Monday, January 1, 2018 (except for Thanksgiving and Christmas day). And it's free!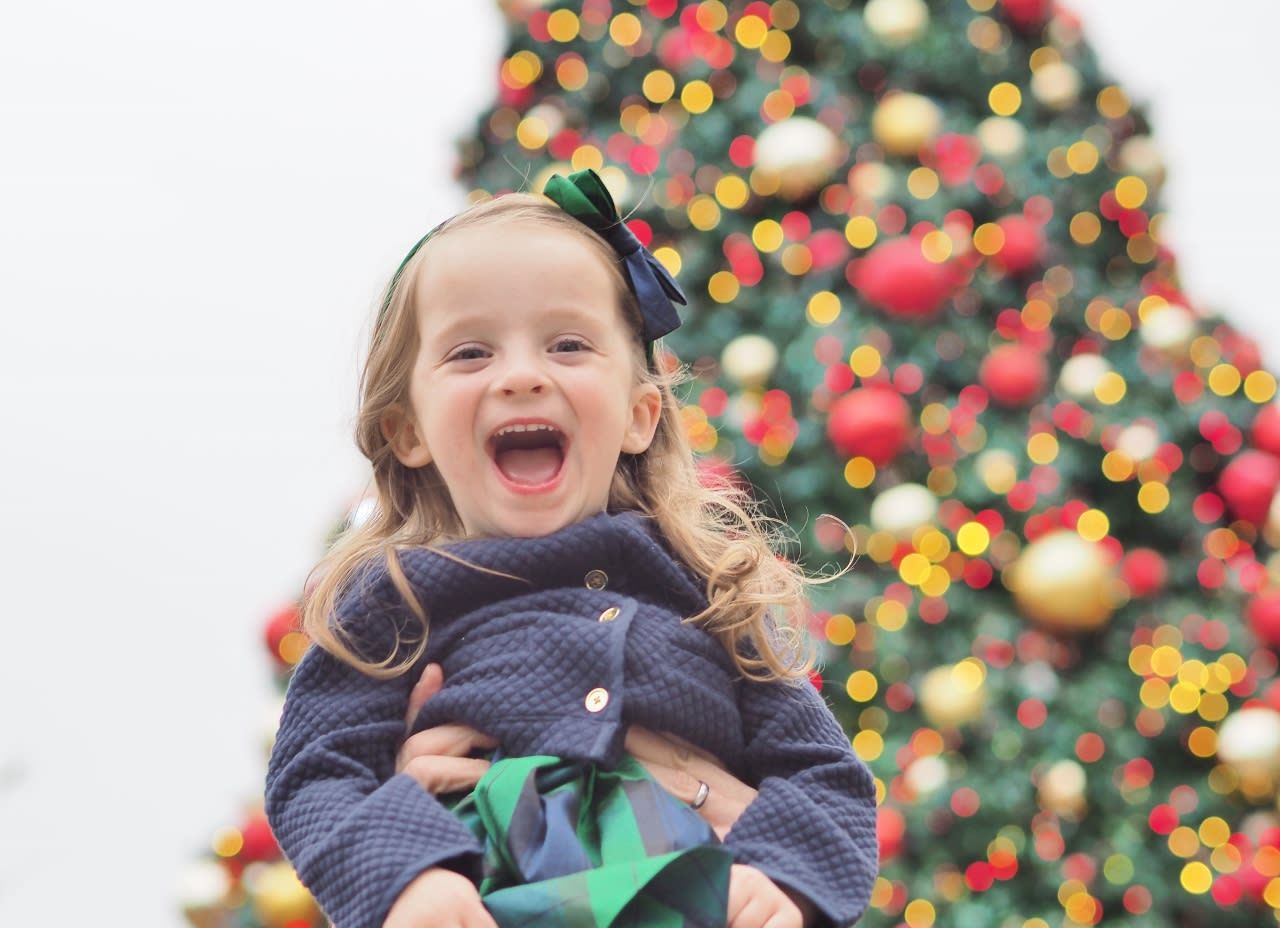 It's not the holidays without a visit to see Santa. There are lots of places with Santas, but the Domain is our go-to. The decorations are perfect for photo ops, and the kids can burn off some steam running around on the artificial lawn. Plus there are free carriage rides, strolling carolers, a light show set to holiday music, special music performances, and more.
The light show runs at 6, 7, and 8 pm November 24 through January 1.
The carriage rides are available each Friday and Saturday night from 5:30 - 9:30 pm Friday, November 24 through Saturday, December 23. Pick-up locations are near California Pizza Kitchen and The Brass Tap.
The Austin Carolers bring the season come alive with performances each Saturday night from 6:30 - 8:30 pm November 25 through December 23.
Live music performances are scheduled Friday, November 24 through Saturday, December 23 at Domain I: Fridays, 6:00 PM - 9:00 PM // Saturdays, 2:00 PM - 5:00 PM & 6:00 PM - 9:00 PM // Sundays, 2:00 PM - 5:00 PM. Performances are at Domain II: Saturdays, 2:00 PM - 5:00 PM // Sundays, 2:00 PM - 5:00 PM.
Each year the Four Seasons Hotel transforms their lobby into a winter wonderland. The centerpiece is an incredible gingerbread house village. Last year the theme was fairy tales. This year it's Monopoly. The scenes are pure Instagram magic. After gawking at the sugar-spun wonder of the village, let the kids run free on the lawn while you enjoy a cocktail on the patio.
I like to go at an off-time so we don't feel rushed or crowded. But if you're up for it, the Four Seasons also hosts a holiday open house at 5 pm on December 4th where you can ooh and aah over the village while enjoying cookies and hot apple cider. Plus, Santa will be in the house for photos.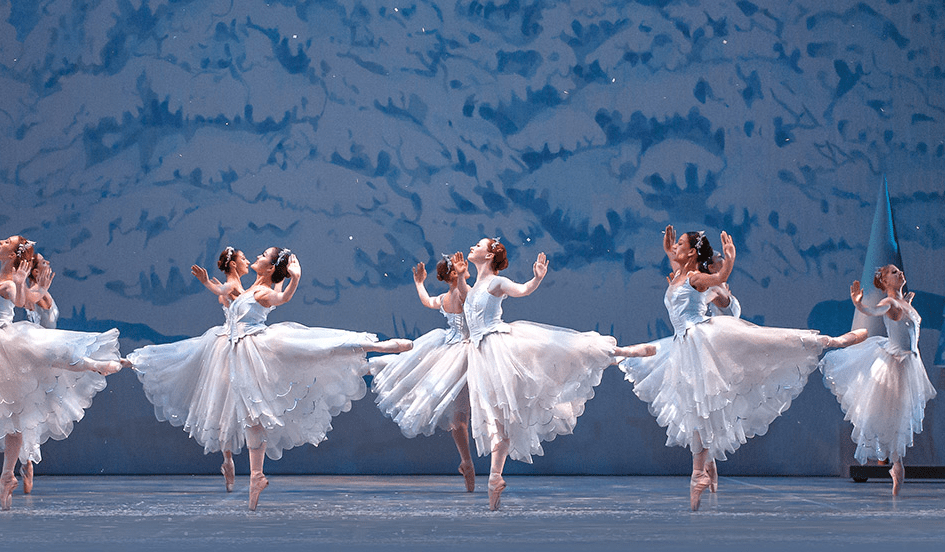 After I wrangle everyone into their holiday finest and get out the door, the fun begins with the gospel brunch at Threadgill's. This guarantees that we won't have parking troubles, the kids will be fed, and we get to hear some live music in the process. With the extra time we run around the landing at the Long Center and take photos with the city skyline in the background. Once inside we pass the time posing with the decorations, pretending to be ballerinas, checking out the orchestra pit, and celebrating good behavior with a sweet treat. My younger kids stare in awe during the First Act, but by the Second Act the wiggles have set in. The Nutcracker runs December 8 - 23, 2017.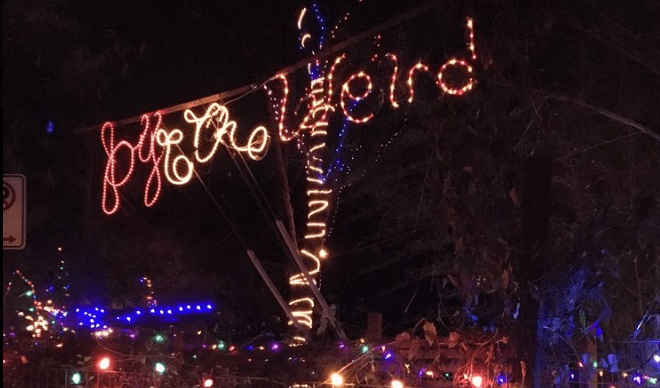 I lived on 34th Street for 8 years or so, and I always loved walking over to 37th Street (near Guadalupe) to enjoy the wacky light displays at Christmas. Some of the homeowners have moved away and others have rented their houses resulting in a decline in the light display, but we keep going every year anyway. It seems like it's on the rise again. Maybe 2017 will rock? Regardless, we get ice cream at Amy's and the kids get to walk around a quirky Central Austin neighborhood so what's bad about that? And, it's free.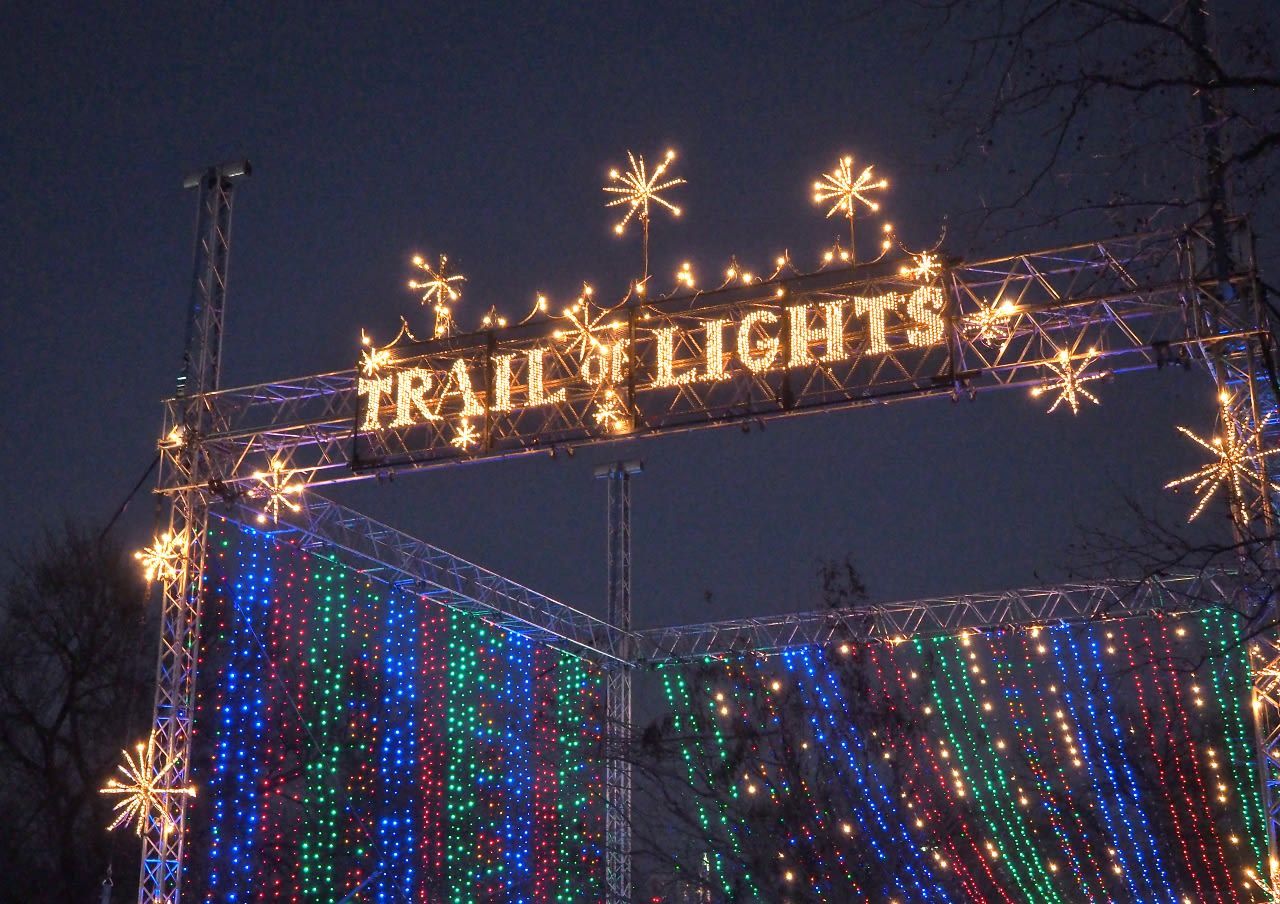 The Austin Trail of Lights has been an Austin tradition since 1965. For two weeks in December, visitors can take in 2 million twinkling lights during a 2.1 mile stroll through Zilker Park. The event also features dozens of food trucks, live entertainment, and interactive activities. This is not my favorite activity, but the kids really like it. The zip pass and parking pass make getting there and getting in less of a hassle. The Trail of Lights is open every night at 7 pm from December 9 through December 23.
Whew! I'm tired just from writing all that.
And now it's time to DO it! You can follow our holiday adventures on Instagram and Facebook. Who knows, maybe we'll see you out and about town? Until then, we wish you much joy, peace, and happiness during the holidays and beyond.
And if these ideas don't spark your interest, there's plenty more to choose from. Check out these other family-friendly activities in Austin and the surrounding neighborhoods.
OTHER IDEAS
New this year, COTA is launching a jam-packed Winter Wonderland. There's a skating rink, human snow globe, singing trees, petting zoo, camel rides, Santa's workshop, carnival rides, a hot air balloon float, and more!
Now in its 13th year, this charming little rink is the perfect place to skate for the holidays! Open from November 24 – January 15 (with some closures) from 10 am – 9 pm. The $10 admission fee includes skate rental.
ZACH's adaptation of the Dickens' classic is a musical adventure that spans all genres and eras. The traditional story is interwoven with a variety of music from Motown to classic holiday tunes. The show runs December 1 - 31, 2017 at 7:30 pm at the Topfer Theatre.
This family-friendly event includes live music from Austin favorites like Riders Against the Storm, Jane Ellen Bryant, Charlie Faye and the Fayettes, Gina Chavez and more. Plus, shop at a special market, see the lighting of the Capitol tree, and take photos with Santa. The action kicks off at 5 pm on Saturday, December 2, 2017 on the Congress Avenue Bridge.
On Saturdays and Sundays starting November 25 and running through December 9, you can take a 2 hour train ride on the North Pole Flyer with Santa and Mrs. Claus. Enjoy hot cocoa and a holiday cookie, visit with Santa, and listen to a live reading of an original Christmas story.
Get your holiday shopping done early at the Cherrywood Art Fair, with 90 Texas artists offering everything from original paintings to hand-poured candles. Pass the time enjoying treats from the food trucks and live music. Free admission. The fair is held at Maplewood Elementary from 10 am - 5 pm on December 9th and 10th.
Shop for art, handmade gifts, stocking stuffers, and more from over 160 curated artists in an upbeat environment. When you're tired of shopping, take a break and enjoy at least three bands per day on the Armadillo stage. In its 42nd season, this annual tradition and cultural icon is one of Austin's longest running art and music festivals. Free admission for children 12 and under, $8 for a single day pass. Open from 11 am - 10 pm daily from December 14 through December 24 at the Palmer Events Center.
Join Mickey Mouse, Minnie Mouse and the comical duo of Donald and Goofy as 25 of your favorite Disney characters surprise and captivate. There are two performances, one at 12 pm and another at 3 pm on December 23, 2017, at the Frank Erwin Center.
A Christmas Story: The Musical brings the classic 1983 holiday movie to hilarious life on stage. You can't help but smile at the chronicles of young Ralphie Parker as he schemes to get an air rifle for Christmas. This show runs on December 29th and 30th at the Long Center.
Georgetown's annual Christmas Stroll on the Square is scheduled for December 1st (5pm-9pm) and 2nd (10am-8pm). There's something for everyone with Santa, arts and crafts booths, a food court, a kids' activity area, an ice skating rink with free skate rental, a swing carousel, and a candyland obstacle course for the little ones. There's also a re-enactment of life in Bethlehem Village, including a live manger, and a holiday parade on Saturday, December 2nd. Admission is free but a new toy donation to Blue Santa or Brown Santa is encouraged.
Stroll along the Lower Colorado River and enjoy over 100 seasonal light displays. The walking trail stretches about 1/2 of a mile from Fisherman's Park to Ferry Park. Admission is free. You can enjoy the lights nightly November 24 - December 31, 2017 from 6 - 9 pm.