Real Estate Reflections: Austin's real estate roller coaster
The market is hot.
The market is too hot.
The market is crashing.
The market is normal.
Confused?
It's hard not to be confused when the real estate market is having ups and downs like a roller coaster. Buckle up, because I don't think the ride is over.
The good news is that we've ridden this roller coaster before. Here's what I think lies ahead.
HOW HIGH WE WENT AND HOW FAR WE'VE FALLEN
The Austin real estate roller coaster went something like this: from the super, hot days of 2021 where multiple offers over the asking price were the norm, to a strong start in 2022, to fewer multiple offers, to homes sitting on the market longer and sellers adjusting their price over time, to our current environment where buyers can actually negotiate down from the asking price.
Let's apply some numbers to that story. Using sold data for single-family homes in the Austin metro, we started 2022 with the median price at $400,000. Initially prices climbed and many thought we were in for another history-making year. But you know that moment when you are at the top of the roller coaster and there's a brief pause before you plummet? Well, that was March 2022.
Prices peaked at $446,449 in March and then stalled out for a bit. And now we've begun the decline with the median price now at $369,600 – below where we started. We've reached the point where we are clearly eating into the price gains achieved in 2021. Ugh. In fact, 62% of active sellers have adjusted their sales price and are still not sold. Uh Oh. While the rapid drop in a roller coaster can be exhilarating, it's less fun when it's your real estate investment taking a nose dive.
See for yourself in the chart below. The blue line represents 2022, and the green one represents 2021.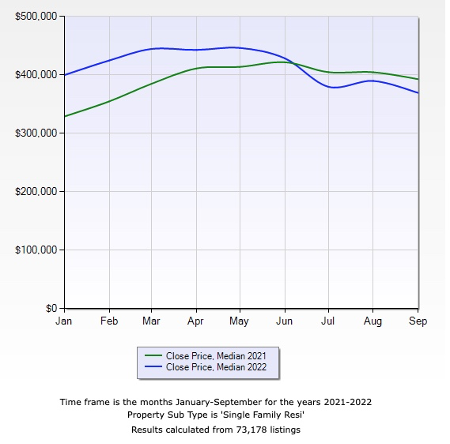 Sometimes the Austin metro numbers look a little different than inside the city itself, but this time they are mostly in sync. Within the city of Austin we started 2022 at a median price of $602,000, we peaked at $720,000 in May (a little later than the metro), and as of mid-September we have fallen to $590,000. We are very close to break even for the year – for now.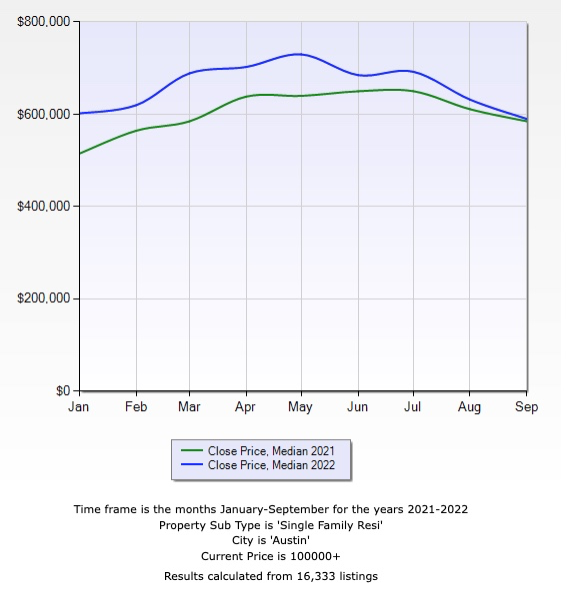 As I examine other markets that Blake, Marquette, and I serve, I see a similar story. Not all areas are in the negative for the year, but most are at least flirting with it. If you are curious about your particular neighborhood, we are happy to calculate the statistics for your area. Just reply to this email with your address.
COULD THIS JUST BE TYPICAL MARKET SEASONALITY?

Excluding the outlier pandemic years, Austin's real estate market typically has a predictable seasonality to it, with prices usually hitting a low point around Halloween and then beginning to climb back to peak numbers in the spring. Even a summer slow down is normal, but it was more pronounced this year than in the past. So while I believe that seasonality is responsible for some of what we are seeing in Austin's market, it's not the sole influencing factor. And that means that we can't expect a typical seasonal bounce back either.
The fact that most home owners are equity rich right now is also going to make a significant difference in how the rest of the year evolves. Austin real estate prices went up so far and so fast that some sellers are willing to give up some of that easy equity to make their next move and achieve their goals.
So what's next? Given the Fed's most recent comments that they will continue aggressive inflation curbing measures, I think our normal bottom (usually Halloween) may be further extended through the Fall season as the Fed continues to tighten. I find myself telling our sellers that "as long as the Fed is raising rates, we are going to continue this downward trend."
While my inbox is full of glib comments from my real estate colleagues across the nation trying to gloss over what is happening, I'm more of a realist. Real estate is always going to have ups and downs. Fortunately, most folks have enough equity that they can ride out some of the most extreme shifts in the market and still come out on top. If anything, this feels like a reset of the market and a return to more normal conditions. It's just a bit bumpy getting there.
WHAT SHOULD YOU DO IF YOU WANT OR NEED TO MAKE A MOVE?
Does all this roller coaster talk mean that you shouldn't sell or buy a home? Not at all. Lots of people scream their head off while they're on a roller coaster and turn around and get right back in line as soon as the ride ends. But let's be realistic about what you're getting into. Would you be better off waiting to sell? Is this the right time to buy? Can you afford a home with current interest rates? Those are all excellent questions that we can help you answer.
Here are some of the big take aways:
If you are a current home owner and you're not planning to move any time soon, don't give any of this too much thought. This is all about today's interest rates and uncertainty in today's world. Once the Fed beats down inflation, it's likely rates will come down again, and equity will get restored. You're better off focusing on the market conditions when you see a move on your horizon.
If you are a new seller, this is a different market than you've heard about the last few years. It's now a buyer's market. On the listing side everything matters more now. Price and presentation are paramount. If you need to sell, let's talk about (1) timing, (2) proven strategies to get your home sold, and (3) some alternatives to selling that you might not have considered.
If you are a distressed seller, lower your sales price or go the rental route and wait to sell when the market rebounds. Be ready to offer good lease rates, because more folks are now competing for good tenants.
If you are a buyer, this is a great time to purchase. We haven't seen choices and opportunities like this in quite some time. Many buyers want to "find bottom" but that's almost impossible to do. Prices may continue to go down, but I don't think for long. It's time to get that starter home, move up, or trade for something different.
If you are thinking of leasing, many sellers are opting to lease their homes rather than sell for a loss. While we are still seeing a large net migration to Austin as new businesses expand their foothold in Central Texas, it's possible we may see the return of leasing wars from the dot com era, where sellers who turned into landlords cut prices to get a little help carrying their mortgages. Just look at the number of active lease listings this year (blue line) compared to 2021 (green line). You may just find a deal. Of course, with rental prices increasing, this is a prime chance to start paying your own mortgage – instead of leasing -- and building some real equity of your own.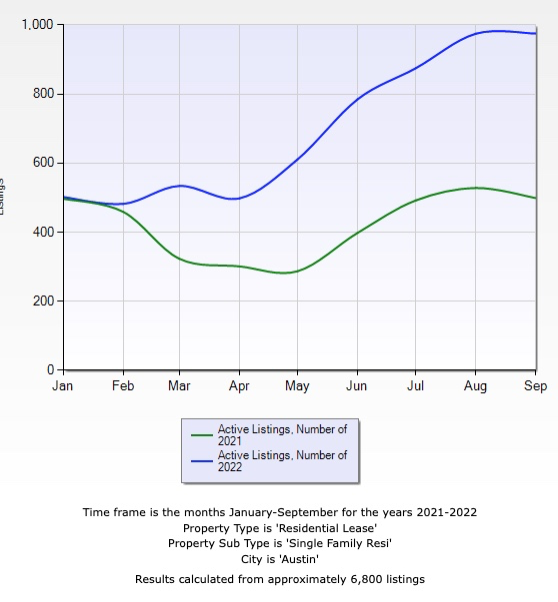 YEAH, IT'S BEEN A WILD RIDE.
The thing about roller coasters is that some people love them.
And some people hate them.
The Austin real estate roller coaster is no exception. But having been through this before, we know that eventually the real estate roller coaster comes to an end and you can relax.
We're here to get you through all the twists and turns.

Wherever life takes you, we can help you get there.
See our real world results
Can you imagine loving your real estate experience? It's possible! Just look at our reviews on Yelp and Zillow.
Take the next step
Are you ready to find a home you love? We're here to guide you through the process. Contact us to schedule a consult.
Stay on top of the Austin real estate market.
Sign up for our email updates.
I agree to be contacted by Homesville Realty Group | Compass via call, email, and text. To opt-out, you can reply 'STOP' at any time or click the unsubscribe link in the emails. Message and data rates may apply.
We respect your inbox. We only send interesting and relevant emails.
Woo hoo! We've added you to the list.
Thanks for subscribing to our blog updates. Look for market updates, community features, hot properties, and design trends in your mailbox soon. Until then, join our journey on Instagram. We always want to add value, so you can unsubscribe at any time.
Get the behind-the-scenes scoop on Instagram